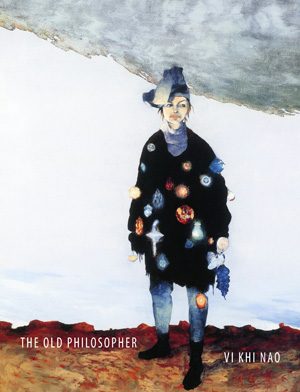 The Old Philosopher
Winner of the Nightboat Books Prize for Poetry
$15.95
Additional information
| | |
| --- | --- |
| Weight | .35 lbs |
| Dimensions | 5.8 × .2 × 8.2 in |
The Old Philosopher is enigmatic, sexual, biblical, anachronistic, political, and personal all at once. These quiet, implosive poems inhabit a nonlinear temporality in which Vi Khi Nao brings biblical time and political time together in the same poetic space, allowing current affairs to converse with a more ancient and historical reality.
Praise
The poems of The Old Philosopher are keen and bright; sharp like ice in winter, these seemingly fractured lines perform the strangest roles. I believe in all the wicked wisdom contained here. Vi Khi Nao risks much—she weights each line with deep spiritual and emotional resonance, yet the voice of the poems never fails to surprise. The opening section of quirky, lacerating lyrics give way to a deceptively quiet series of narrative poems that only serve to show how fully language can come to inhabit lived experience without compromising one stitch of poetry's power to de-center and disturb. The collection closes with a masterful prose sequence that fuses the various approaches of the poems that came before. Political, prayerful, peripatetic, the work of Vi Khi Nao feels so necessary, so intense, so immediately now.
Details
ISBN: 9781937658489
paperback, 80 pages, 6 1/2 x 8 1/2 in
Publication Date: 2016
Reviews
In stanzas as flippant as they are philosophical, Vi Khi Nao shines light on the seasons of the body, its vastness, and the boundaries between genders. The Old Philosopher is an examination of the space between people, between organs, between tongues. Where does my body, my experience, my love begin––where does yours end?
This drama takes place in an intimate landscape where "the / tongue was like a hammock, rocking the mouth in the / heat, dividing the atmosphere & hemisphere & there / was snow between us."
With textural language so visceral and delicious that it lodges itself in ligaments and blood vessels, we learn that "The heart is a quiet mountain in the Northern Hemisphere of the Body." This pulsing reverberates from page to mouth to circulatory system. Each poem left me longing to taste language more deeply, more fully. In a five-page poem titled "My Socialist Saliva," Nao invokes the connection between bodies across the terrain of generations: "My mother's hair flipping through the pages of the air / The rubber trees tall and skinny / Whose backs wouldn't break very easily." Strength comes in loving, in standing tall, in finding home in the most unexpected of places.