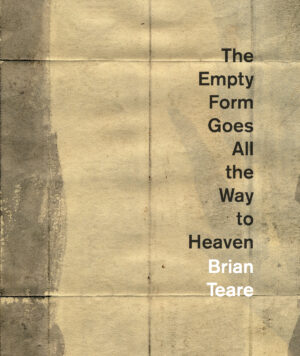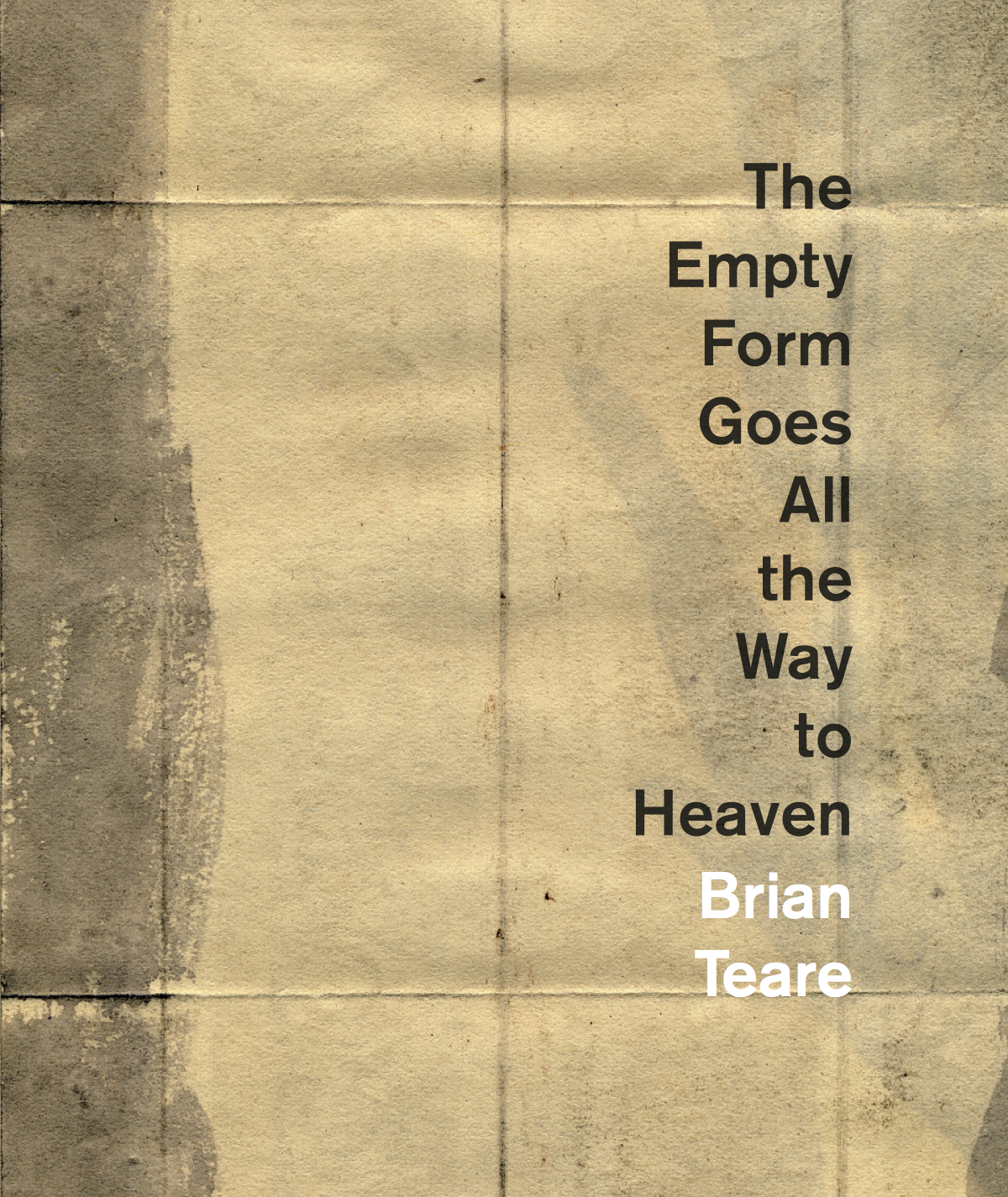 THE EMPTY FORM GOES ALL THE WAY TO HEAVEN
$18.00
Now available for purchase from Nightboat!
In THE EMPTY FORM GOES ALL THE WAY TO HEAVEN, Brian Teare explores paradox. Teachers are sought and rejected (the Buddha, Christian thinkers, an Abstract Expressionist painter); illness is at once personless violence and a means of perfection; the body, both physical and a nostalgic memory from the days before sickness. There is also heaven itself: something Agnes Martin's Buddhist readings would insist is possible and current on earth, but a notion that the sufferer ruptures by existing. The space of the hospital—designed to be as utilitarian and perfect as graph paper, filled however with blood tests, nausea, vomiting, weeping—becomes a palpable hell. Teare's title is in this way wishful thinking, a goal prayed for: perhaps the form of the body, emptied of the illness that entered it uninvited, can attain heaven, though altered by messy suffering. Indeed, the calmed body may be a new object entirely, as void as it is beautifully scarred by its new understanding: "form empties itself / on its way to heaven."
Praise
"Titled with Agnes Martin's singularly flowing lines, these poems weave phrases from writers as rangy as Larry Eigner and Rosalind Krauss, Antonio Damasio and Maurice Blanchot together with an evolving examination of the immediate experience of illness and pain. In THE EMPTY FORM GOES ALL THE WAY TO HEAVEN, a kind of stillness gradually builds through these carefully-shaped pieces, a distilled poise in which one comes to hear Agnes Martin as one simultaneously sees the Zen koan that the collection itself slowly, precisely forms."
Details
Ahsahta Press
ISBN: 9781934103623
Paperback, 98 pages, 8 x 9 in
Publication Date: October 1, 2015
Reviews
Written during a period of chronic, debilitating illness, this powerful fifth collection from Lambda Award–winning poet Teare (Companion Grasses) chronicles his struggle "to learn to think with pain"—to not only endure "days of headache," but to make meaning of those days. Observing hospital visits and "events/ like the calm after vomiting," his lyrics are austere but also deeply affecting, intellectually generous, and formally dazzling. Inspired by the minimalist compositions and metaphysical writings of abstract painter Agnes Martin, Teare treats each poem like a "field of consciousness." Arrayed across the page, their parallel stanzas sometimes coincide; like Teare's undiagnosable sickness, they invite multiple readings. At other moments, their arrangements are akin to spikes of pain, interrupting ordinary syntax. Indeed, Teare's suffering is such an overwhelming presence here that he sometimes ascribes it agency: "What is the ideal/ state of illness," he wonders in one poem, "does it want/ to attain anything." Regardless of its purpose, Teare manages to wring some wonder from his suffering. "Illness," he writes, "shares/ its few virtues/ with art… in not being 'of'/ or 'for' anything." Teare's virtues, on the other hand, are undeniable; these meditations give rare voice to an experience for which humans have little language.