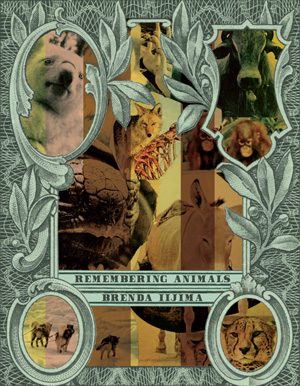 Remembering Animals
This song cycle is a raw and mutating cry from within an ecological surround undergoing massive upheaval and duress
$17.95
Additional information
| | |
| --- | --- |
| Weight | .9 lbs |
| Dimensions | 9 × .4 × 9.9 in |
Remembering Animals chronicles the animal in all the complexity of such a categorization, revealing the ways in which bodies are marked and evaluated, used as resource, violated and occluded from history. It is a botched text—it is problematic and scarred. It hurts and registers the hurt. There is no comfort zone. These poems contort out of the marked position of human to bring an intimate awareness of our interrelational vibrancy.
Praise
Remembering Animals is Iijima at her most fearless and feral. Life comes at you fast and furious in this powerful book. Fonts, typefaces and punctuation leap about like nervous creatures made of flesh, hair and fat in a cautionary tale about the dangers of getting lost in a forest of deep forgetting. Knowing where and how to live eco nominally in the world (without dismembering it) echoes one of this masterful visualiterary creation's pet peeves: You broke it, you bought it. Naked or fully dressed in fur, Remembering Animals smells/ tells/yells of wounds humanimals meat out. No body is spared. I picture Iijima, head coated in honey and gold leaf sharing this brilliantly illuminated shamanuscript with Cecil the lion, cradled across her lap, pieta-like. Heart felt rendering, Beuysian feel, whispering to the dead inside us. Hop, hop. Hope… be U tearful read.
Details
ISBN: 9781937658496
paperback, 176 pages, 9 x 10 in
Publication Date: 2016
Reviews
I often forget that I am animal. Most summer evenings I usually encounter one or two rabbits outside of my apartment in Minneapolis. I fixate on these creatures, their chaotic bodies, their boldness as they just shuffle along calmly in middle of the street, though a car could come any moment. Most people slow their vehicles when faced with these rabbits in the road, and I take comfort in how much care people take with these creatures. I also remember my own animal nature, and the great capacity we have to inflict violence on other species and one another. This is perhaps why I am drawn to "Rabbit Lesson," the second poem in Brenda Iijima's Remember Animals.
"Rabbit Lesson" is a fable, which implicates the reader as they enter the rabbit's world. We grow attached to the rabbit, amidst looming violence…
Violence is a learned behavior in this poem. The violence that looms is both a part of the environment and the collective consciousness. The fox's violence is one that is natural and necessary. It is fluidly explored in the latter portion of this excerpt. The violence on the part of the "we" is one enacted by the shorter lines preceding. The movement is choppy and awkward throughout; Iijima performs the brokenness of a particular kind of violence that exists beyond what is necessary for survival. The different sections of this poem explore the tenuous and overlapping relationship between the natural world and the world in which "we" take part and construct.