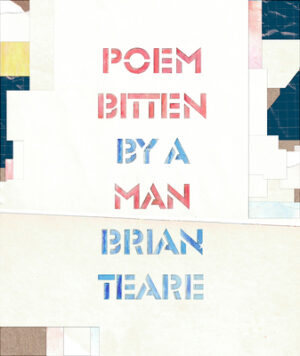 Poem Bitten by a Man
​Collaged from journals and notebooks kept during a period of chronic illness, economic precarity, and heartbreak, Poem Bitten by a Man captures crisis by cutting up the record of a queer life lived in devotion to poetry and visual art.
$9.99 – $18.95
Additional information
| | |
| --- | --- |
| Weight | .5 lbs |
| Format | eBook, Paperback |
A medical emergency, a road trip, a breakup, and a paean to the power of creative process—Poem Bitten by a Man is for everyone who has tried against the odds to make a life in art, whether they succeeded or not. Using somatic language captured through a notebook practice, Teare recontextualizes the work of Agnes Martin, Jasper Johns, and others via art criticism, psychoanalysis, biography, queer theory, and historical document to honor writers, artists, and thinkers who sustain us when nothing else does.
Praise
"In Poem Bitten by a Man, the colors brought forth by a healer in the wake of a migraine are put into conversation with the blue stripes of an Agnes Martin canvas; heartbreak is metabolized like the waxy mouthful bitten out of a Jasper Johns painting; queer art histories, riddled with holes, become a poet's braille as he seeks out a tolerable place on the pain scale. This book is already a mainstay, a nexus of body and image and story and time that I'll reach toward again and again."
Details
ISBN: 978-1-643-62210-1
Paperback, 108 pages, 8 x 9.5 in
Publication Date: September 26, 2023
Reviews
"Teare's exquisite latest (after Doomstead Days) defies genres as it engages with queer artistic legacy and process. Moving fluidly from prose to verse, the collection takes formal inspiration from collage, assembling itself from the history of queer artists like Jasper Johns and Agnes Martin, an illness journal, and ruminations on writing and visual art… This dazzling consideration of queer art and life will challenge and enlighten its readers."