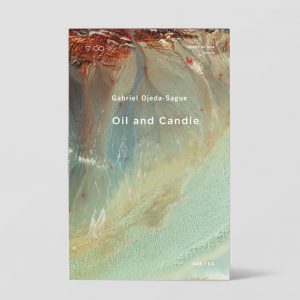 Oil and Candle
Poetry
,
Timeless Infinite Light
$15.00
Oil and Candle traces imagined rituals, failed rituals, and magical objects of Santería in confronting issues of race, warfare, and the precarity of Latino lives. Object-oriented, Oil and Candle localizes biographical, theoretical, and imagined content in a Limpias oil and an Abrecaminos prayer candle (or velón). It is as much a confrontation of racism in poetry as it is a torch-song to cultures inherited and not necessarily lived. Oil and Candle was selected as the winner of Timeless, Infinite Light's 2015 TRACT Contest by guest judges Brittany Billmeyer-Finn, Cheena Marie Lo, and Syd Staiti.
Praise
Gabriel Ojeda-Sague's poems, to borrow a phrase from Robert Hayden, are "wild, patterned, and free." The language is restless; it leaps and alights in surprising ways. A ghost calls on a landline and "time/ opens its clouds." Paradoxically, the non-linear unfolding of sense and music allows Ojeda-Sague to craft a vivid matrix of patterns: identity, rituals, queerness, citizenship, and war. At the heart of this matrix is a voice –discerning and serendipitous — that moves from intimate telling to a gorgeous torquing of syntax and line. The aesthetic freedom fueling Oil and Candle is exhilarating. All language is at play for Ojeda-Sague, which allows him to score the page with multiple tongues and registers. Oil and Candle is a remarkable and searing book. A must-read.
Details
Timeless, Infinite Light
ISBN: 9781937421175
Paperback, 74 Pages, 4.5 x 7 in
Publication Date: 2016
Reviews
"In these poems, blood is imagined multivalently as kinship and as exploitation, as heritage and racial violence, as inclusion and exclusion, as slaughter and as self-sacrifice. Poets and poetry occupy highly contested space as Ojeda-Sague offers: 'limpias of communist poets who forget who killed my family/limpias of the market poets who forget who killed everybody else.'"