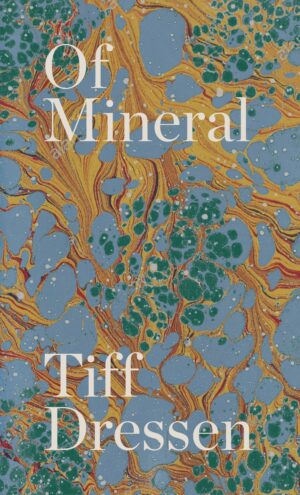 Of Mineral
A collection of lyric mediations cultivated from a deeply personal experience of the natural world, synthesizing the poet's experiences of the elemental and ephemeral; presence and place.
$9.99 – $16.95
Additional information
| | |
| --- | --- |
| Weight | .25 lbs |
| Format | eBook, Paperback |
In Of Mineral, Tiff Dressen initiates a chemical reaction, taking place on the page so meaning is continually created and destroyed. The forces at play create a beautiful and unpredictable stability. With intentionality and deep attention, the poet undergoes an elemental education, learning through articulation how to experience the natural world as an active participant rather than as an observer. As the poet attempts to synchronize their left and right brain, boundaries between the urban and the "wild" dissolve to form a more unified experience of presence.
Praise
"Tiff Dressen's poems are bold acts of accumulation and dispersal. The result makes for hybrids and synergies and possibly even 'a new structure for love.' The readiness to attend is everywhere—these texts are stays against forgetfulness, and a summons to maintain the exquisite tensions of a lifeworld in which 'we are all responders.'"
Details
ISBN: 9781643621418
Paperback, 76 pages, 5 x 8.25 in
Publication Date: April 19, 2022
Reviews
The contemplative second book from Dressen uses spare language to describe the natural world in lines that often spread across the page… Dressen also draws from music and mathematics, citing the works of Bach and Alan Turing in the same poem to explore the spectrum of human ingenuity.