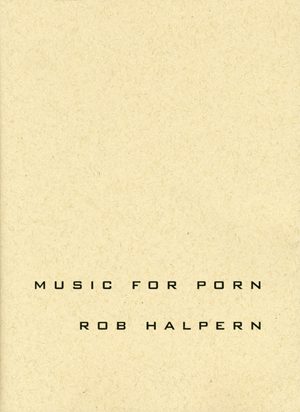 Music for Porn
A bracing lyrical exploration of the ethical limits of our militarized and eroticized landscape
Intergenre
,
Essay
,
Poetry
$17.95
Additional information
| | |
| --- | --- |
| Weight | .85 lbs |
| Dimensions | 6.5 × .8 × 9 in |
Taking Walt Whitman's Civil War poems as an inspiration, Rob Halpern's Music for Porn moves across the landscape of battlefields and homoerotic affect in an encompassing engagement of desire and death. Halpern work, constructed of poetry and lyric prose, evinces a world in which the physical and linguistic body are permeated by, and implicated in, the globalized maneuvers of modern warfare and capitalist endeavor.
Details
ISBN: 978-0-9844598-9-6
paperback, 176 pages, 6 1/2 x 9 in
Publication Date: 2012
Reviews
"Music for Porn" is a sweeping, varied, ambitious work, as indicative of Halpern's diverse array of poetic chops as of his fearless pursuit of ideas that (frequently) cross into territory that can't be reprinted here… Halpern's inquiry is thrilling in its depth and unsettling in its resultant darkness.