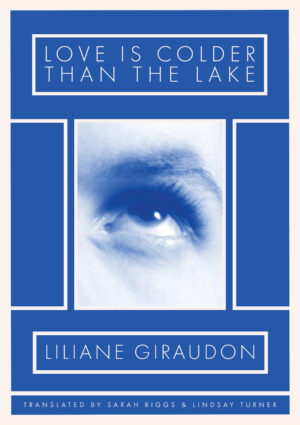 Love Is Colder than the Lake
Searing in its energies and mysterious in its icy depths, Love is Colder than the Lake is a tour-de-force of the experimental French poet Liliane Giraudon's power and range.
$17.95 – $18.95
Love Is Colder than the Lake weaves together stories dreamed and experienced, fragments of autobiographical trauma, and scraps of political and sexual violence to create an alchemical and incantatory texture that is all Giraudon's own. In its feminist attention and allusive stylistic registers, Love Is Colder than The Lake claims a unique position among contemporary French literature. The heroes (or anti-heroes) in this collection include Rainer Werner Fassbinder, Lorine Niedecker, Emma Goldman, Chantal Akerman, the Marquis de Sade, and the unnamed lake itself. Giraudon's writing, editing, and visual work have been influential in France for decades, and English-speaking readers will thrill to this challenging, important voice.
Praise
"For half a century, Giraudon's incisive brilliance has driven French poetry forward. Here, she investigates the work of art in an age of global deperdition. Banalities stumble into horror. Text, collage, and film bottom out into their constitutive unknowns. And ghosts including Fassbinder, Niedecker, and Maier compel us to look the Real in the eye. Riggs and Turner match Giraudon's pace and polyphony and affirm that poetry is the mode of perception we need now."
Details
ISBN: 978-1-643-62197-5
Paperback, 112 pages, 6 x 9 inches
Publication Date: January 16, 2024
Reviews
"[Giraudon's] voice is hypnotic, inscrutable, unique. A trip through one of her narratives is like a somnambular stroll through a rain-soaked ravine with an unreadable road map; a ramble in fugue-state through a wilderness where signposts are written in the language of emotion and the logic of the heart."