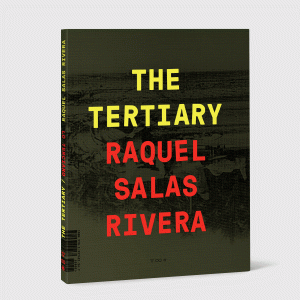 Lo Terciario / The Tertiary
Poetry
,
Timeless Infinite Light
$20.00
Additional information
| | |
| --- | --- |
| Weight | .58 lbs |
| Dimensions | 7.5 × 5.75 in |
Written in response to the PROMESA bill (Puerto Rico Oversight, Management, and Economic Stability Act) bill, Lo Terciario / The Tertiary offers a decolonial queer critique and reconsideration of Marx. The book's titles come from Pedro Scaron's El Capital, the 1976 translation of Karl Marx's classic. Published by Siglo Veintiuno Editores, this translation was commonly used by the Puerto Rican left as part of political formation programs. Lo Terciario / The Tertiary places this text in relation to the Puerto Rican debt crisis, forcing readers to reconsider old questions when facing colonialism's newest horrors.
Praise
Like no poet I have ever read, Raquel Salas Rivera talks to Marx via the monstrous colonial devastation of Puerto Rico.  This genius poet also speaks to Trotsky who said workers could not make art. Here is one of the most riveting, beautifully written declarative poetics of our lives!  A fierce document that fully transfers its radical transformative powers into our bones!
Details
Timeless, Infinite Light
ISBN: 9781937421274
Paperback, 176 Pages, 5.75 x 7.5 in
Publication Date: 2018
Reviews
"By blending the sociological and the poetic, Rivera delivers a withering assessment of the colonial practices masquerading as benign development that have impoverished the citizens of Puerto Rico."