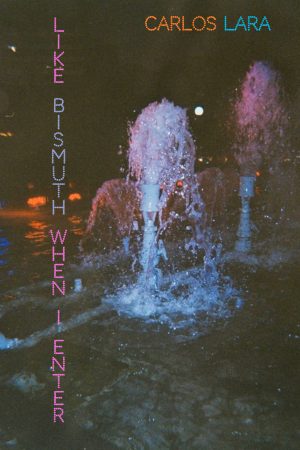 Like Bismuth When I Enter
The winner of the 2018 Nightboat Poetry Prize that enters the space of ritual, incantation and trance with a stunning assemblage of images and structures.
$16.95
In Like Bismuth When I Enter, Carlos Lara engages language in the purely creative aspect of language–it's synthesis of dream and waking world. In these vibrant, hallucinatory poems, inspired by the element Bismuth and its iridescent surrealist structure, Lara attempts to produce a collective surge of new imagery, a new mind state, and structural undoing. Like Bismuth When I Enter captures that moment when the universe strikes you with an unmistakable reminder of mystery via the quotidian or the elemental.
Praise
Phrases, sentences, lines, and fragments scintillate and spark with multiple realities. Lara has risked a great deal to transcend sense and form as we understand it to make a remarkably fresh and majestic book. I feel returned to the primordial, the preclassical, the prelingual. Stein wanted to make words new; Lara has picked up the mission and carried it far.
Details
ISBN: 9781643620190
Paperback, 112 pages, 6 x 9 in
Publication Date: April 14, 2020
Reviews
Realizing an abstract freedom opposed the determinism of everyday life, Lara's poetry has an intrinsic social value. With an epigraph that reads "for my grandfathers," he sets the tone for a book of origins, only these origins point back to a multicultural, inter-traditional history, and then encircle the present moment like a warm sirocco wind. Lara's linguistic consciousness is less a juxtaposition of phrases in the form of collage than a kind of attentive listening that discovers harmonic connections between disparate conceptual planes.