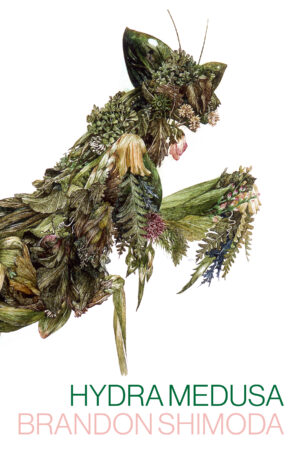 Hydra Medusa
A book of poetry, dreams and speculative talks, collected from the psychic detritus of living in the US-Mexico borderlands.
$17.95
Part coping mechanism, part magical act, Hydra Medusa was composed while Brandon Shimoda was working five jobs and raising a child—during bus commutes, before bed, at sunrise. Encountering the ghosts of Japanese American ancestors, friends, children, and bodies of water, it asks: What is the desert but a site where people have died, are dying; are buried, unburied, memorialized, erased. Where they are trying, against and within the energy of it all, to contend with our inherited present—and to live.
Praise
​​Hydra Medusa is stunning. Written partly by dream, partly by death, and wholly by a clarity born of deep spiritual and political reckoning, it traverses the ethics of being conventionally alive and inextricably bound to the dead. This is the continuation of a work by a poet who gets out of the way for poetry, who steps fully into it and vanishes.
Details
ISBN: 978-1-643-62171-5
Paperback, 144 pages, 6 x 9 in
Publication Date: June 2023