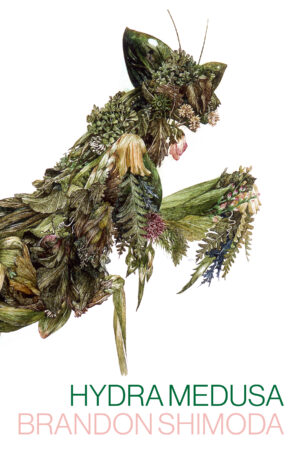 Hydra Medusa
A book of poetry, dreams and speculative talks, collected from the psychic detritus of living in the US-Mexico borderlands.
$17.95
Part coping mechanism, part magical act, Hydra Medusa was composed while Brandon Shimoda was working five jobs and raising a child—during bus commutes, before bed, at sunrise. Encountering the ghosts of Japanese American ancestors, friends, children, and bodies of water, it asks: What is the desert but a site where people have died, are dying; are buried, unburied, memorialized, erased. Where they are trying, against and within the energy of it all, to contend with our inherited present—and to live.
Praise
Hallucinatory, visionary, this is Brandon Shimoda's "anti-memorial" memorial to the ineluctable spectre of Pearl Harbour over 3 generations of Japanese Americans. Poetry is the vital signs of a language, whatever the cultural climate. How else is one to meet the petrifying gaze of history, in the form of the Hydra Medusa? I am grateful for this human document.
Details
ISBN: 978-1-643-62171-5
Paperback, 144 pages, 6 x 9 in
Publication Date: June 2023