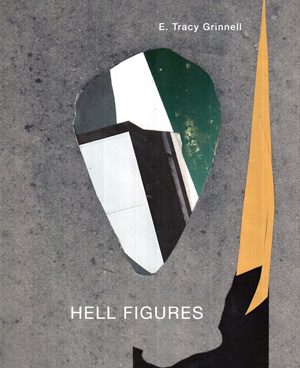 Hell Figures
This series of formally experimental poems explores subjectivity in contemporary wartime and environmental crises via Greek histories
$16.95
Additional information
| | |
| --- | --- |
| Weight | .8 lbs |
| Dimensions | 6 × .8 × 7.5 in |
Hell Figures ventures into the fragmented mythical and literary histories of Helen of Troy, Sappho, Cassandra, Antigone, and others by way of our current condition of perpetual war, violence, and environmental destruction. Grinnell employs the transliteration of musical forms, such as the fugue and humoresque, and homophonic translation as methods of giving form and voice to obscured, inaudible, illegible, unintelligible, and omitted subject positions
Praise
Want wants, place is ether, land is landlocked, is sightblindness, is an unraveling of the It of It, is music posted on the wall, framed and unhearable. Hell Figures is therefore rhyme that is visual, that sticks in your eyes since landlocked and stuck to your land, your city, you can't anyway anymore hear so many careless deadly words and yet, in Hell Figures words fly out from the score's constraint of these personal personal times, into burning lyric evisceration. Indeed, Hell Figures must be written for me, into my nasty complaint, written on a chalkboard wall in a Cherry Grove rental "No more atmospheric poetic histories!" This work is not only not those, it negates them. In Hell Figures no place exists from which to tell such "a promontory of gazes gone to/prosopopoeia." Hell Figures is the individual, "reckless landscape's/counterpoint," is HELEN returned RIGHT and ON FIRE.
Details
ISBN: 978-1-937658-47-2
paperback, 160 pages, 6 x 9 in
Publication Date: 2016
Reviews
Joined by the specters of Helen of Troy, Sappho, and Cassandra, Grinnell (Portrait of a Lesser Subject) roams "the terroir, of amnesia," in her accomplished collection. In one sense, these prominent women of classical literature are the eponymous "figures," but they have been ventriloquized through patriarchal narratives, authors, scholars, and millennia of literary transmission, so figuration constitutes these characters while also stripping them of subjecthood. It is from this critical tension between representation and effacement that Grinnell's sparse yet richly nuanced poems emerge. Grinnell does not recuperate or reconstitute these characters, but instead asks "What can I do?// in the narrow mirror/ showing the part for all?"—a question that is about both agency and the possibilities and limits of composition. Fugues, palindromes, translations, and quotations highlight iteration and repetition where "no body// letters alone/ proliferate." Figure, author, text, and reader become scrambled in a feedback loop wherein "the effigy imagines us/ panoptic glass eye." In four distinct, symphonic movements, Grinnell questions whether there is a way out of a violent echo chamber of literary representation—"how else traverse/ , in loudening// howls the rendered/ animal,// darkest, darkening/ refraction, our// how else/ stand, walk, murmur, think/ , grieve?"—while nonetheless forging a new way forward.