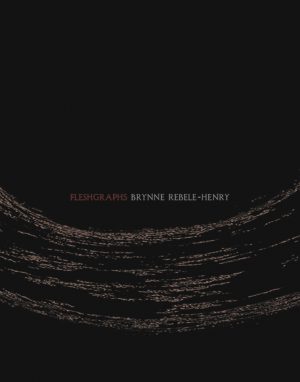 Fleshgraphs
A visceral engagement with the politics and poetics of girlhood by a 14-year-old author
$15.95
Additional information
| | |
| --- | --- |
| Weight | .35 lbs |
| Dimensions | 5.5 × .5 × 7 in |
Haunted by on-line confessions, ranging from the trivial to the homicidal, and by a society obsessed with people changing their corporeal forms, Fleshgraphs is a multi-vocal manifesto of the body. Lyrical, experimental, satirical—these prose fragments enact a potent exploration of queerness, girlhood and illness against a backdrop of internet and rape culture.
Praise
Brynne Rebele-Henry's Fleshgraphs is a herd of glamorous alien anthems: melodies of violent sex tuned against a pedagogy of the body. This naughty band of stone songs ache for igneous holes to penetrate and the soft curves of rapture. Open up your wounded slits, Fleshgraphs will fulfill you; swallow its succulence.
Details
ISBN: 978-1-937658-54-0
paperback, 104 pages, 5.5 x 7"
Publication Date: 2016
Reviews
Painfully adolescent and preternaturally wise, teenage wunderkind Rebele-Henry fills her debut collection with fractured, polyvocal, visceral engagements with darkness and pain—both psychical and physical. Her numerous speakers include a disturbed young mother with an aversion to her baby ("I don't want to name this cartilage/ watermelon, this alien kitten"), a rape victim, a trans man, and the child of a very busy prostitute. They are under the influence of every drug on the planet and self-mutilating in increasingly disturbing ways: swallowing Exacto blades, cutting with a vegetable peeler, and drinking bleach so that their organs "turn shiny and blonde." They have friends named "Billy-Bob Jones," "Fucker John," and "Cookie Monster Rob." Though the overall tone is very bleak, Rebele-Henry has an equally potent sense of humor, referring to "sports moms" with "pseudo lesbian haircuts" and a man with a "DICKLRD" vanity license plate. References to cannibalism, child molestation, mutilation, and sex acts incorporating pig masks skirt the edges of palatability, but they fit with the violently corporeal nature of puberty, which the poet aptly compares to a werewolf's transformation. It is also an age prone to shock value, and the reader eventually becomes numb to it. Rebele-Henry's ability to briefly but fully embody such varied personas indicates a profound emotional intelligence and maturity.