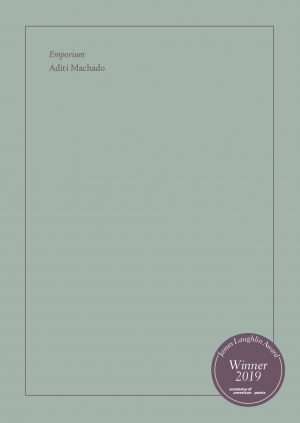 Emporium
Aditi Machado's lush poetic investigation of transnational and trans-lingual modes which received the 2019 James Laughlin Award from the Academy of American Poets.
$16.95
In Emporium, Aditi Machado follows a merchant woman as she travels a twenty-first-century "silk route," trading her wares while becoming "lost" in un-monetizable reciprocities and the sensory excesses of the marketplace: coins changing hands, the odors of food and sweat, the "noise" of translation and multilingualism. Is this tradeswoman in control of her "destiny"/ business or is she the product of impenetrable global forces? These investigative, itinerant poems interrogate our entanglement in the irresistible threads of language, history, and money.
Praise
Aditi Machado's Emporium takes us on a tour of the development of mercantilism that gradually and deftly
builds up into a critique of capitalism and its plundering. Her response to the resulting 'emporium' and its inevitable clichés is a language of resistance, but also one of delight, pleasure, and profound discovery.
These poems rearrange and reorient the social and the political, making room for the ineffable, exposing a commerce of both oppression and expression in pieces that are alternately meditative, cinematic, playful, and searing—and always linguistically surprising. Never didactic, it's a work that comes from the margins—and from many of them simultaneously, decentering her center of trade and commerce, and leaving us with an emporium of possibility made by a magician's hands and a visionary's eyes.
Details
ISBN: 9781643620299
Paperback, 112 pages, 6 x 8.5 in
Publication Date: October 27, 2020
Reviews
In this gorgeously rendered work from Machado (Some Beheadings), the speaker travels a reimagined contemporary silk route, suffused with a sense of unbelonging ("I came low like low things…barter[ing] my socialisms for some mastic or gâteau"), and arrives at the rich temptations of a vast emporium… VERDICT A Laughlin Award winner; ­stunning work for sophisticated readers.