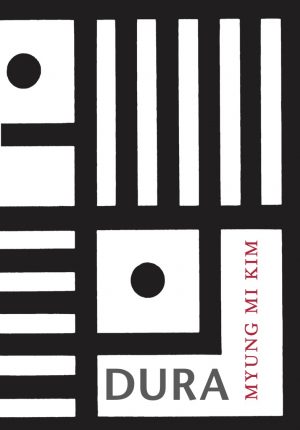 Additional information
| | |
| --- | --- |
| Weight | .3 lbs |
| Dimensions | 5.2 × .2 × 7.5 in |
The politics and poetics of language, culture and self all collide in Myung Mi Kim's DURA, a contemporary classic of Asian American and experimental literature, brought back into print by Nightboat Books on the tenth anniversary of its original publication. The 10th anniversary edition of this classic of Asian America and experimental poetry features a Preface by Juliana Spahr and an Afterword by Stephen Hong Sohn.
Details
ISBN: 9780976718598
paperback, 128 pages, 5 1/4 x 7 1/4 in
Publication Date: 2008
Reviews
With the small press titles Under Flag (1992) and The Bounty (1996) Kim astonished readers in the know with passionate, formally investigative catalogings of colonialism, war and rampant capital in the domestic and public spheres. Building on the achievements of Theresa Hak Kyung Cha and Susan Howe, Kim continues here to engage the reader in re-witnessing this morally arid landscape.