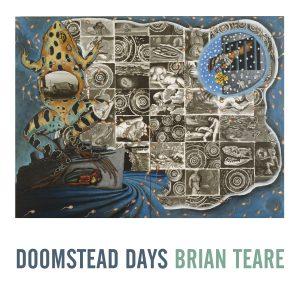 Doomstead Days
Brian Teare offers a new kind of nature poem for the late Anthropocene in these plein air meditations on the pleasures and perils of everyday life during global climate change.
$17.95
FINALIST for the KINGSLEY TUFTS POETRY AWARD
Additional information
| | |
| --- | --- |
| Weight | 0.75 lbs |
| Dimensions | 8 × 8 in |
Doomstead Days is a lyrical series of experiments in embodied ecological consciousness. Drafted on foot, these site-specific poems document rivers, cities, forests, oil spills, mountains, and apocalyptic visions. They encounter refineries and urban watersheds, megafauna and industrial toxins, each encounter intertwining ordinary life and ongoing environmental crisis. Days pass: wartime days, days of love and sex, sixth extinction days, days of chronic illness, all of them doomstead days. Through these poems, we experience the pleasure and pain of being a body during global climate change.
Praise
Near the end of this beautiful and various and terrifying book we meet the Anthropocene with its singular wide sex and it is, in Brian Teare's description, 'biospheric,' implying that it's all of us, just as God or God's monster is all of us. And from the streets and toxic rivers of Philadelphia to the green of Vermont Doomstead Days details that all, with sustained and sustaining attention to our desires and failures to get across, to depart, to cross over—via image, via thought, via motion—into knowledge itself, to be 'married to the world// alive with the feel/ of mortal knowledge.' And Brian Teare, at the very end of things, cautions us that 'the world is awake'; and that 'it is the gender/ that remembers everything.' Read and remember this book. 
Details
ISBN: 9781643620022 W
176 pp, 8 x 8
Publication Date: April 2019
Reviews
The poems feel solitary but intimate: Teare's voices let us weigh the insoluble questions of how to live as an ethical being in the face of violence and environmental collapse.