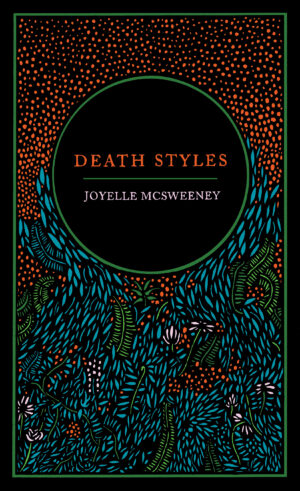 Death Styles
A record of daily bewilderments and accidental concessions to hope after a momentous loss.
$17.95
In this follow-up to her award-winning collection, Toxicon and Arachne, Joyelle McSweeney proposes a link between style and survival, even in the gravest of circumstances. Setting herself the task of writing a poem a day and accepting a single icon as her starting point, however unlikely—River Phoenix, Mary Magdalene, a backyard skunk—McSweeney follows each inspiration to the point of exhaustion and makes it through each difficult day. In frank, mesmeric lyrics, Death Styles navigates the opposing forces of survival and grief, finding a way to press against death's interface, to step the wrong way out of the grave.
Praise
In Death Styles, Joyelle McSweeney summons for contemporary poetry the poetic force and historical reckoning of the baroque. Her mantic ear reminds us that the baroque is not an aesthetic of bewilderment so much as it is a reckoning with those conditions of lost authority, endangered offerings, the sovereignty of exception, and the debts of death that bewilder our searches for the ancient dawn. This work of daily midwestern catoptromancy by a poet who sees with her ears her incident irradiance is as brilliantly brutal as history itself.
Details
ISBN: 9781643622309
Paperback, 136 pages, 5.5 x 9 in
Publication Date: April 2, 2024