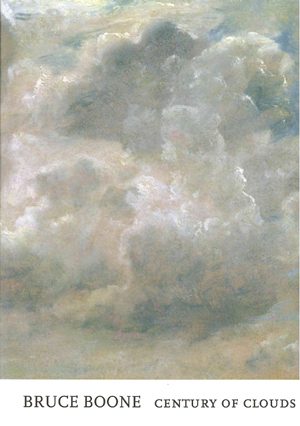 Century of Clouds
Intergenre
,
Essay
,
Fiction
$16.95
The reprint is now shipping.
Additional information
| | |
| --- | --- |
| Weight | .2 lbs |
| Dimensions | 5.2 × .5 × 7.5 in |
This edition restores to print a central text of the New Narrative movement, founded in San Francisco by Boone and Robert Gluck in response to the stagnation of contemporary experimental poetry of the late 1970s. Wishing to bring the vigor and energy of the gay rights and feminist movements, Bruce Boone's writing of the late 1970s is as fresh, funny, witty, and self-reflexive as it was thirty years ago. First published in 1980, Century of Clouds, based on Boone's experiences at the summer meeting of Marxism and Theory Group in St. Cloud, Minnesota, takes up issues of sexuality, political and theoretical identity, religion, and friendship in the characteristically rich and varied writing of the New Narrative movement.
Praise
Bruce Boone has the perfect cadence of a real writer, part awe, part critique. He can see.
Details
ISBN: 978-0-9822645-2-2
paperback, 122 pages, 5 1/4 x 7 1/2 in
Publication Date: 2009
Reviews
The affinity towards a larger, community-minded group is something noted by Boone both in the book's first line "I like the bigness of things, their largeness," and his thoughtful afterword in which he critiques the book's flaws but notes with pride its holistic point of view. "There was and remains—wonderful!—a certain largeness to this whole era. It was after all a time of Marxism, feminism, gay rights, black struggles, and beginnings of an environmental awareness all marking this era in question." Even considering the political and social changes from 1980 to the present-day, it is this idea that remains most compelling in Century of Clouds and gives us a reason to keep reading the book—the idea that pure camaraderie and idealism cannot only exist, they can be mobilized on the person-to-person level to enact social change.