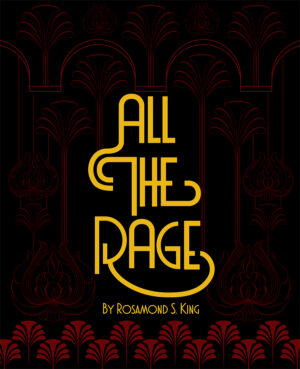 All the Rage
A new collection of poems by Lambda Award winner, Rosamond S. King, conceptualizing state violence, racism, and the persistence of Black desire, resistance, and joy.
$9.99 – $16.95
All the Rage addresses everyday pleasure as well as the present condition of racism in the United States—a time marked both by recurring police violence and intense artistic creativity—from a variety of perspectives: being Black, an immigrant, a woman, and queer. At its core dwells "Living in the Abattoir," a series in which people of color live out their days as both workers and meat. All the Rage simultaneously invokes both anger at ongoing systemic violence and the frivolity of something that is, perhaps temporarily, "trending."
Praise
All the Rage is a metropolitan poetics where protest and testimony do not spare confusion but makes within these passages—veering between performance and document—a new kind of torque. What are the facts? What are the ironies? Who is contradicting who? What just happened? What gets kept? This book is not only a cry of pain but also for joy, of what is possible and what may be impossible.
Details
ISBN: 9781643620718
Paperback, 112 pages, 6.5 x 8 in
Publication Date: April 6, 2021
Reviews
"Lambda Award winner Rosamond S. King's All the Rage (Nightboat, Apr.) presents an intersection of Black, immigrant, female, and queer issues, with the gut-punch 'Living in the Abattoir' series at its heart presenting people of color living in an abattoir where they are both workers and product."