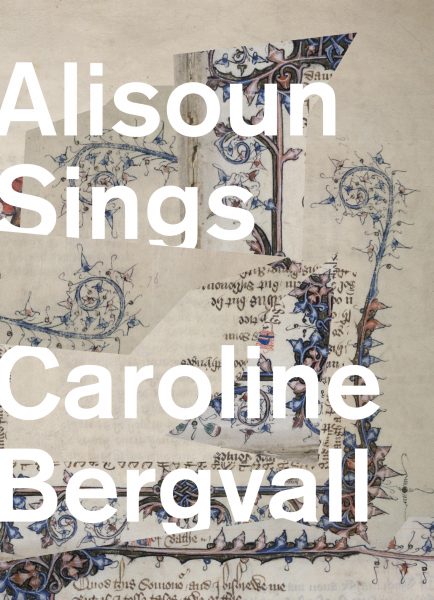 Blog
|
The Language of Alisoun: In Conversation with Caroline Bergvall
November 21, 2019
"The pleasure that people feel about that character, Alisoun, the Wife of Bath,
is tied in with her voice, the way she speaks and fights, she just marches on with all the knowledge and
inventiveness at her disposal. That was my starting point"—Caroline Bergvall
On October 16, 2019, Caroline Bergvall celebrated her now-launched Alisoun Sings at the NYU Department of Social & Cultural Analysis, hosted by The Colloquium for Unpopular Culture. After a brilliant introduction from S.S. Sandhu, she read from the work, "a ghost" before its official publication date, and presented some of her films, a rare treat in the States. In conversation with Nightboat's own Stephen Motika, Bergvall expanded on her project, and its predecessors, her take on Englishes, multi-dimensional time, and being overwhelmed by her character's voice.
S.S. Sandhu: What drew me to your work was on a linguistic level. It's very slippery, and deeply, deeply impure, not just theoretically impure. And the words themselves on any given line, in any given sentence, feel like hungry ghosts, feel like brave migrants, feel like clubbers in heat, which also reminds me of the worlds that you straddle.
The fierce joy in Alisoun Sings really shines through, at a time of multiple enclosures, of different forms of economic, social utopian political privatizations. It's also really present in your last three works, including Meddle English, and Drift, which is linked through the medieval " Seafarer" to contemporary geopolitics especially around the Mediterranean Sea, the politics of migration. Your work represents something different, something free, unbounded, loose, hungry, questing, voyaging, and it is really a delight that you've been able to come and talk about some of your work, and also to be in conversation with Stephen Motika.
Caroline Bergvall: Thank you Sukhdev! One of the things I don't often talk about in relation to all my work but which you reminded me of just now is my interest in fugitiveness. In making work, the fugitiveness of time-led work and performance of course. But also there's a fugitiveness of identities, of cultural belongings, of cultural forms of belonging. One can consider that most of our identities are imposed and prohibitive, or claimed, and liberatory, but other aspects are much more fugitive, less declared, liminal, invisible, working in the backdrop, and that's something that I find very helpful and that I carry with me and try to look at and trace up.
My character Alisoun has its starting point in Chaucer's Wife of Bath, a mid-14th century tale written in Middle English language and spelling. Chaucer's considered the founder of English literature and his Southern dialect became the standard of the English language. What interests me particularly about him is the fact that he has such an all-encompassing work, he took on a great number of characters from various social standing, as well as helped himself from all sorts of circulating, ambient texts, he was a keen translator, and had a very flexible and rich language. For me, coming all these hundred years later, to be looking at his character of the Wife of Bath is just a wonderful challenge and pleasure. Not only for the narrative possibilities but especially by way of language use, what Middle English might do for me as a writer today, a non-British, non-English writer at the other end of the English language, just as it is being spun into all sorts of new realities.
Stephen Motika: So in 2006 Chaucer comes and totally overturns, upturns, totally changes your practice. Now, 13 years later, we have this new work which engages historical material in a different way and also demanded you transform a certain way you were working. I'm wondering if you can talk about the sort of intellectual and creative connection coming from this work.
CB: There was a dual thing that happened. Well, first off I was invited by Charkes Bernstein to develop a piece for David Wallace then president of the Chaucer Congress, in New York. And immediately I found that Chaucer allowed me narrative. I was someone who was not developing explicit narratives. I was working more structurally, conceptually, in other very different ways, and suddenly the idea of telling a story and how I would want to tell that story in a way that made sense to my practice was really appealing and one of the leading motives. And then actually, to look at pre-print culture allowed me to value my performance work in a totally new way. I had already been doing a lot of sound-based performance, a lot of work with musicians, but this gave so much more permission to think about oral forms, the audience, or orality and technology.
And the other thing is the multilingualism. I had a joke about Chaucer, and in fact, it is David Wallace who sort of picked up on this idea that the English of Chaucer was my own perfect English. As a French-Norwegian, based in London, I am Chaucer or rather Cahucer's language! What I speak or write from all the time is Chaucer's English, with all its accents, the English of the Normans, and the Nordic roots still in the language. And now all the new mixed Englishes that have grown. That was a fantastic notion and very liberating. It immediately allowed me to centre my identity and writing through a wider question of languages in translation, identities in translation. And now here I am one of the speakers and practitioners of those forms, and for whom the question of the migrancy of English is deeply tied to its transformation into totally new territories and post-imperial realities.
It is so rich, with so many strands that justify, that give me permission, that have become such an important way of being able to think about, not only transhistorically my contemporaneity, but also remembering genealogically some of the deep, deep tracks that are emerging into that contemporaneity. The unknown past of my own identity. In the times we are in—they are depressing and they are dark and we lose systemic or activist ways of thinking about them—that gives me also one way to think about what is happening. To give it a trans-historical dimension. There is something extremely fertile and nearly optimistic about this kind of acknowledgment of the depths of history, the way we occupy some of it can help us make sense differently of what is happening, be less a prisoner of our own times, choose other less visible yet ancient pathways.
SM: Drift is a very multimodal book, in itself and in the making. It's comprised of seafaring texts from medieval sources, and then your drawings, and your maps and notations, and there's an essay in there, the "Log." The different parts of the practice are delineated, so our experience is segmented in a sense. We move to Alisoun where the questions of authorship get very tricky. You're almost totally subsumed into Alisoun.
CB: This is a book told and narrated and organized by the voice of Alisoun. And the voice of Alisoun is made up of a great number of voices. She's in dialogue with a great number of people and the whole question of the way she navigates the world to try to understand her identity as a feminist, gendered entity. I really wanted to let some of my anger be part of her old anger about the separation of roles, the devaluing of women, and for me also the devaluing of queer identities or bicultural citizens. And always the resurgence of violence around all this. But yes that became a task in itself, to have a voice that was as strong as that voice is and could carry it through the distance of the book. And not lose myself in it more than I already was. Very tough. But bottomline, the story starts with a greeting from Alisoun and ends with her thanks some 150 pages later, so it's also very simply a monologue. A monologue in dialogue. A monologue in many voices.
SM: The amazing thing about Alisoun is that as we go farther into it, the poet, the writer, is reflecting on so much swirling around, so there's this brilliant thinking about powerful women philosophers and thinkers. There's a really interesting way you bring in social change over the last century, and contemporize it and force it. There's such a velocity.
CB: She was representing an impatient, urban woman in Chaucer's time, and she's super impatient now. That's one thing that hasn't changed. And on the contrary, it really felt that that was ideal for now, that you have an impatient voice, and that voice, therefore, is very much fed by all the voices that are circulating at the moment, setting up new collective ways of being, speaking up more publicly, and trying to find other roots together, other ways of wanting social change and justice. That's why it felt relevant to let her voice be carried also by so many other voices, from today and the past. And sometimes the voices are just there, they coexist, they become part of her.
At one point even, she decides to insult me! I was really overwhelmed by the force that this figure demanded of me personally. It's really interesting for a writer who is not a narrative writer, nor a playwright, to be inhabited to that extent by a character, by a figure. Like a guiding voice. It was very interesting and terrifying for my writing practice. I always had to find ways to both involve and extricate myself from her voice. And then find ways of locating myself as the writer of that text and keep the motivations for writing it all the time very alive.  In that sense the way I've developed Alisoun she's perhaps more a figure than a character. I'm not quite sure how to put that yet, but she's like a field of resonance.
---
CAROLINE BERGVALL is an award-winning poet and sound artist whose interdisciplinary and international projects alternate between books, printed matter, collaborative performances, site-specific installations and soundworks. Her publications include Drift (2017), Meddle English: New and Selected Texts, and the DVD Ghost Pieces: Five Language-Based Installations (2010). Recent commissions include Documenta 14 (Kassel), Palais de Tokyo (Paris), The Jewish Museum (Munich), The Serpentine Gallery and Tate Modern (London), MoMA (New York). Her touring work Ragadawn (2016-2020) is an outdoor sunrise performance for spoken voice, soprano and a dawn chorus of voices in multiple minoritarian languages (with vocal work by British composer Gavin Bryars).
S.S. SANDHU is the author of Night Haunts: A Journey Through The London Night (winner of 2008 DH Lawrence International Prize For Travel Writing). He makes radio documentaries for the BBC, runs the Colloquium for Unpopular Culture at New York University, and is a film critic (he was named Critic of the Year at the British Press Awards in 2005). He is Associate Professor of English and Social and Cultural Analysis at NYU.
STEPHEN MOTIKA is the Director & Publisher of Nightboat Books.