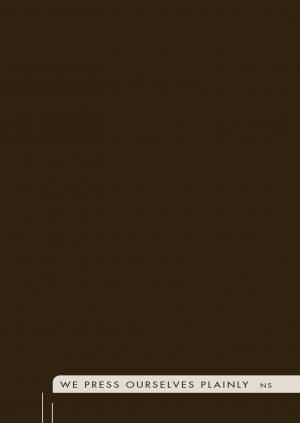 We Press Ourselves Plainly
$14.95
Additional information
| | |
| --- | --- |
| Weight | .3 lbs |
| Dimensions | 5 × .5 × 6.8 in |
Praise
We Press Ourselves Plainly is a particularly affecting development in an already virtuosic, Ovidian body of work because it renews and makes newly visible crucial continuities: between Continental and North American Postmodernism, the Nouveau Roman and New Narrative, WWII and Operation Enduring Freedom. From out of agile and Celinian ellipses, Nathalie Stephens creates an asynchronous, transnational "discordance…in time," a hugely amplified recent past whose familiarity haunts us not as nostalgia but as trauma. Among "immaculate and catastrophic" ruins and lacunae, having forgotten "the sentence for behaving," the narrator embarks upon an 'adverse and objectionable' litany of a history whose abjections yield a kind of nihilistic courage: "Hope is for martyrs." Given that now "even the fictions are fictions," Nathalie Stephens puts 'holes…where there were none' as a way of underscoring that there's nothing inevitable about gender or genre or violence, just as "What is inevitable is not the war but the language that determines the war." As grim as Beckett, as moral as Genet, as seductive as Duras—yet this book moves me like no other.
Details
ISBN: 978-0-9844598-0-3
paperback, 120 pages, 5 x 7"
Publication Date: 2010
Reviews
"I should like," the narrator declares in We Press Ourselves Plainly "for my own name made illegible…" Indeed, we never learn the identity of the devastating speaker whose body and mind is the landscape on which violence unfolds. It is not a pleasant voice nor is it necessarily appealing, yet it enthralls in its immediacy, a distinctive intonation which begs the reader to devour it in its singular attempt to articulate the tragedy of history.
A 97-page book-length poem in the form of continuous blocks of text separated only by ellipses, Stephens endeavors neither to elucidate the source of violence nor to expose a chronological representation, therefore the fragments—some of which are complete sentences and others only partial slivers thereof—have the aesthetic of immutability and timelessness, a voice existing in the present moment yet also in the dredges of the past.