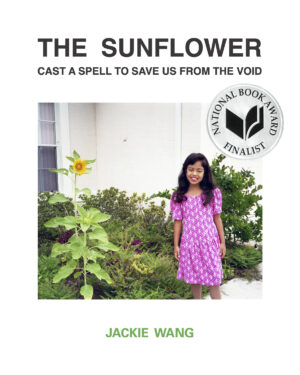 The Sunflower Cast a Spell to Save Us from the Void
A magnetic and spellbinding debut poetry collection that speaks in the language of dreams.
$12.99 – $16.95
Finalist for the 2021 National Book Awards in Poetry!
2022 LAMBDA LITERARY AWARDS FINALIST!
Additional information
| | |
| --- | --- |
| Weight | 0.45 lbs |
| Format | eBook, Paperback |
The poems in The Sunflower Cast A Spell To Save Us From The Void read like dispatches from the dream world, with Jackie Wang acting as our trusted comrade reporting across time and space. By sharing her personal index of dreams with its scenes of solidarity and resilience, interpersonal conflict and outlaw jouissance, Wang embodies historical trauma and communal memory. Here, the all-too-familiar interplay between crisis and resistance becomes first distorted, then clarified and refreshed. With a light touch and invigorating sense of humor, Wang illustrates the social dimension of dreams and their ability to inform and reshape the dreamer's waking world with renewed energy and insight.
Praise
Jackie Wang's new book asks questions that rotate/fluoresce against a backdrop or foreground of ceremonial apprenticeship, like sunflowers or the memories of sunflowers. In this other world, "survivor trauma" is experienced by creatures and non-creatures alike. I was so moved by the mixtures of writing I encountered here: the "map" of a dream, but also the notebooks that "fill up," not always in the English of waking time. "I want to write you without writing over you. I have something to tell you," the speaker says, with the delicacy and directness of a sentence written directly on the skin. Kalan Sherrard's illustrations echo this way of marking the page: a mode of companionship and witness in a book that did not end because it did not begin. Is this what it feels like to be a person?
Details
ISBN: 9781643620367
Paperback, 120 pages, 6 x 8.5
Publication Date: February 2, 2021
Reviews
Here dreams are spaces of radical possibility, and as in the real world, the possibilities are sometimes magical and sometimes nightmarish and sometimes both, like dress rehearsals for the apocalypse.