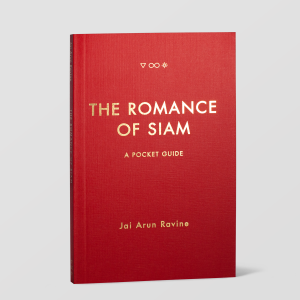 The Romance of Siam: A Pocket Guide
Poetry
,
Timeless Infinite Light
$20.00
The Romance of Siam: A Pocket Guide is a subverted travel guide that interrogates the desire white people have to lose and reinvent themselves in Thailand. Ravine tracks how this 'white love' manifests in the tourism industry, popular American media and the western imaginary. Ravine writes, 'As a person of Thai and white descent, my attempts to connect to Thailand as a place or cultural identity are completely colonized by white desire; writing this book and performing its texts has been a way for me to try to decolonize that relationship.'
Praise
It's a lonely planet for the white alien, but let Jai Arun Ravine stage your hysteric dream tour. Navigating Siam's dream jungle might require mounting white elephants, hunting nasty cats and exotic tigers, consuming stinky tropical durian. Too tame? Too cliche? Then stage your disappearance from whiteness and pop culture disfigurement: dance a threesome with Yul, Anna, and Christy; share a bed with Somerset and Haxton, hang yourself by silk threads from pagoda rafters, gild yourself in gold before mummification.
Details
Timeless, Infinite Light
ISBN: 9781937421182
Paperback, 141 Pages, 4.5 in x 7.25 in
Publication Date: 2016
Reviews
"The Romance of Siam: A Pocket Guide is a book that opens doors. It's an invitation to Google, and it even includes links. It's a book that questions the presuppositions White people have about Thailand […] It's cultural criticism and world building in one. A journey begun because of one author's experience that becomes a journey for everyone who picks up the book. This journey is and isn't touristic. This journey subverts the journey."