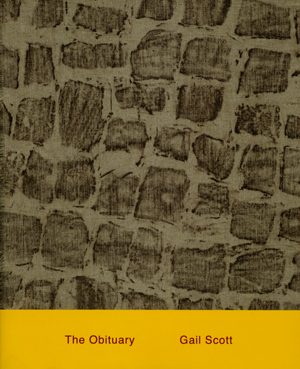 The Obituary
A haunting new novel from the author of My Paris.
$15.95
Additional information
| | |
| --- | --- |
| Weight | .75 lbs |
| Dimensions | 6.5 × 0.6 × 8 in |
In order to traverse a city where identity is tagged by accent, Rosine, Gail Scott's part-Indigenous protagonist, performs an ever-shifting amalgam, ventriloquizing often suspect voices, both contemporaneous and ancestral. Her inability to claim a legacy becomes a trajectory of disjunctions where place, language, and race are lived through in the most detailed ways, fostering schisms that challenge what narrative has come to mean under the rubric of the "novel." Though a mystery, possibly involving murder, The Obituary is less a whodunit than an investigation of who speaks when "one" speaks.
Praise
"A great achievement. I can't remember when I've been so wowed by a book."
Details
ISBN: 9781937658038
Paperback
Publication Date: 2012
Reviews
As Scott writes in "The Sutured Subject," the job of the contemporary novel is to take the shape of "writing that enacts, that is prose, yet poetic in the most material sense." In The Obituary, this translates to a reading experience that asks us to engage with a voice that holds many voices and languages, a story told through other stories, a text that instead of translating language to language, takes the singular voice we look for in narrators and transforms it into a cacophony of sound and cityscape.