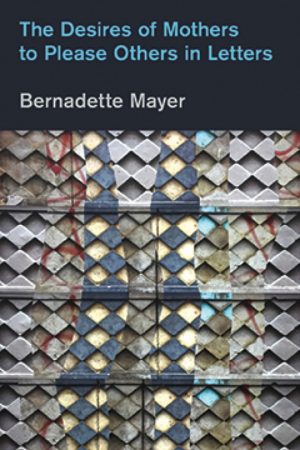 The Desires of Mothers to Please Others in Letters
A reissue of Bernadette Mayer's classic fugitive intergenre text
$21.95
Additional information
| | |
| --- | --- |
| Weight | 1 lbs |
| Dimensions | 6 × .8 × 8.9 in |
Co-published with SplitLevel Texts
Endlessly inclusive, The Desires of Mothers to Please Others in Letters, first published in 1994 and long out of print, evokes the complexity of real persons as it simultaneously reinvents multiple genres: epistle, prose poem, and memoir. Written between 1979 and 1980 while pregnant with her third child, Mayer extends her imaginative letters into meditations for us all on life as it is lived in real time, with its responsibilities and manifold desires. Fierce, lyrical, intimate, and wise, both new and familiar readers, both mothers and non-mothers, will find this book beckoning again and again to offer delicious writing, timely information, consolation, and advice.
Details
ISBN: 978-1-937658-67-0
paperback, 328 pages, 6 x 9 in
Publication Date: 2017
Reviews
This new publication restores to print a vital text from Mayer (Eating the Colors of a Lineup of Words), a powerful treatise about balancing identities and conceiving both children and works of art. The long collection, originally published in 1994, assembles unsent letters drafted between summer 1979 and February 1980, during Mayer's third pregnancy—apostrophes to the living and the dead that are openly preoccupied with this new birth. Pregnancy contemplation swells to surround topics of femininity, female bodies, and what it means to be both mother and poet: "Since I am a woman I got accustomed to the other part of life too as if there were two parts, I don't forget I am a poet but I forget to be being one except for the writing." Stylistically, the work holds true to Mayer's unmistakable voice, ringing with a musicality that arises through her irregular prose grammar. These forms are a foil to much of this work; the normality of pregnancy and the ordinariness of domestic life—"We have a house and it has nine rooms!"—become meaningfully heightened by Mayer's delivery of such personally specific lines. Poetry or prose, epistles or pregnancy guide; from any perspective, Mayer's rediscovered work delivers the goods.