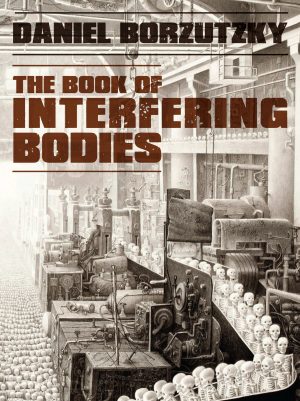 The Book of Interfering Bodies
Ecstatic political poetry and prose engaging notions of bureaucracy by a translator of Chilean poetry
$15.95
Additional information
| | |
| --- | --- |
| Weight | .35 lbs |
| Dimensions | 6 × .3 × 8 in |
Beginning with an epigraph from the 9/11 Commission Report, The Book of Interfering Bodies re-imagines the poet as bureaucrat, barbaric writer, and terrorist. In this book, poems that invoke the role of the writer in society alternate with apocalyptic prose pieces that recall Borges' "Library of Babel." In the process, Borzutzky creates a 21st century response to our most enduing twentieth century writers, from Beckett to Lispector.
Praise
This book is a fetid, fascinating torrent. Unflinching if shellshocked, Daniel Borzutzky is recording our suicide as it happens. In this accounting, minds and bodies have become fragments to be toyed with, digested and erased. Here and there are moments of genuine tenderness, humor, even lyricism, but this is one degraded body, onto which all misfortunes are inscribed.
Details
ISBN: 78-0-9844598-2-7
paperback, 122 pages, 6 x 8 in
Publication Date: 2011
Reviews
Borzutzky's book is a book about books, but not ordinary books, no, that would be too easy, and if it's one thing that Borzutzky's book isn't, it's easy. This is a difficult book, a dense book, one full of dense imagery and denser words. 18 of 38 poems are about the books that remain in a pile, not a neatly stacked and organized pile, but a mountain: books to be stepped on to climb higher, where the stakes are high and one misstep can make the reader fall with an avalanche of books, books covered in shards of glass, books made of flesh, forgotten bodies, prayers, voices, collapsing nations.