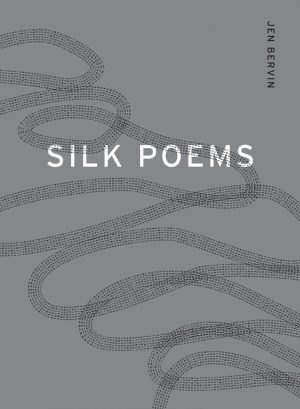 Additional information
| | |
| --- | --- |
| Weight | 0.2625 lbs |
| Dimensions | 5.2 × .5 × 7.2 in |
Silk is compatible with body tissues; our immune system accepts it on surfaces as sensitive as the human brain. In conjunction with Tufts University's cutting edge research on liquefied silk, Jen Bervin mixes poetry with medical technology in the form of a silk bio-sensor. Silk Poems explores the cultural, scientific, and linguistic complexities of silk written nanoscale inside the body.
Bervin's poem stems from the belief that reading such a sensor inside the body is not a neutral context, rather one pre-inscribed with concern, written in a material with a 5,000 year old international history. In her research, Bervin consulted over thirty international bioengineering labs, textile archives, medical libraries, and sericulture sites in North America, Europe, the Middle East, and Asia. Silk Poems premiered at MASS MoCA in the yearlong exhibition Explode Every Day: An Inquiry into the Phenomena of Wonder and is supported by a grant from Creative Capital.
Praise
Silk Poems seem to unspool magically from ancient burial practice and philosophy into the future of emerging nanotechnology. This beautiful multi-disciplinary text becomes a meditation on desire and embodiment, on cultural and personal transformation, on the genetic coding of language and the enduring connection of poetic practice to other forms of making.
Details
ISBN: 9781937658724
Paperback, 200 pages, 5 x 7"
Publication Date: 2017
Reviews
Silk Poems presents a banquet of innovative forms. But these forms are not an extension of the poem's content. They are adaptations, imitations, translations of silk itself—its genetic structure, the loops of its strands, its beta-weave. What if form is not an extension of content, but rather an extension of the material world—of the acts of cultivation and labor that produce what we wear, write upon, and use to swaddle our dead?