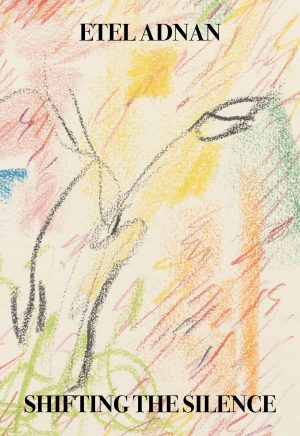 Shifting the Silence
A heart-rending meditation on aging, grief, and the universal experience of facing down death.
$9.99 – $15.95
Additional information
| | |
| --- | --- |
| Weight | .34 lbs |
| Format | eBook, Paperback |
Shifting the Silence breaks the taboo around writing and speaking about our own deaths. In short, unrelenting paragraphs, Adnan grapples with the breadth of her life at ninety-five, the process of aging, and the knowledge of her own approaching death. The personal is continuously projected outwards and mirrored back through ruminations on climate catastrophe, the ongoing war in Syria, Mars missions, and Adnan's view of the sea out of her window in Brittany in a poignant, often painful interplay between the interior and the cosmic.
Details
ISBN: 9781643620305
Paperback, 88 pages, 5 1/2 x 8 in
Publication Date: October 27, 2020
Reviews
"When you have no way to go anywhere, what do you do?" writes the 95-year-old polymath Etel Adnan in her new book, "Shifting the Silence," which contemplates death and aging. "Of course, nothing. But that's no answer." The book's publication this fall coincides with her new show, "Seasons."