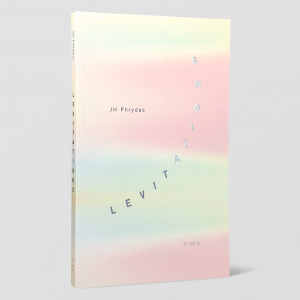 Levitations
Poetry
,
Timeless Infinite Light
$20.00
Navigating the subtle ways language (con)forms the body, Levitations spans childhood, community, and love to explore how we might break free from the cultural demands of normalcy. Imagined as "a preface for the work to come," Levitations unfolds like a sketchbook of emergent architectures, valuing queer hope in a time of vertically integrated and insidiously embodied imperialist rule.
Praise
"I will be your smudge" says JH Phrydas in this beautiful invitation to join him in the shapeshifting the stain begins to suggest past  "the revulsion of 10,000 eyes" towards a new type "of longing, another form to tremble near." For anyone who has ever felt personal and political shame and where those two meet in the death and bondage on the floor. The rare chance to levitate above it, with it.
Details
Timeless, Infinite Light
ISBN: 9781937421083
Paperback, 110 Pages, 5 x 8 in
Publication Date: 2015
Reviews
"Levitations is mud grit and bar light. This book is the clarity of dawn the morning after and also the complex web of subconscious realization. His syntax and imagery morph and shift to capture the difficult to describe affect of queer embodiment. In the process of lifting his characters into a more harmonious collectivity, he lifted this reader up, too."