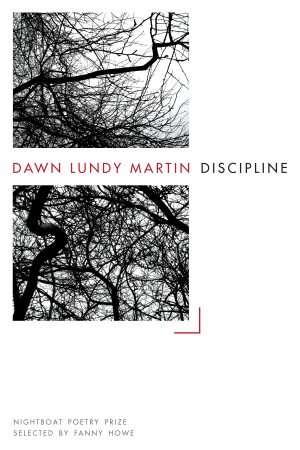 Additional information
| | |
| --- | --- |
| Weight | .4 lbs |
| Dimensions | 5.8 × .2 × 8.8 in |
| Format | eBook, Paperback |
This stunning second collection engages the "disciplines" associated with regimes of powers and sadomasochism. The work interrogates the social and linguistic space between regimes of power enacted on the body, and thereby the soul.
Praise
These poems are dense and deep. They are necessary, and hot on the eye. I was reminded of Leslie Scalapino, the sensitivity to the surrounding arrangements and to human suffering. There is no distance from Martin's subject, but immersion and emotional conflict. Discipline is what it took to write such a potent set of poems.
Details
ISBN: 9780984459841
paperback, 80 pages, 6 x 9 in
Publication Date: 2011
Reviews
Dawn Lundy Martin featured in Autostraddle's "Eight Black LGBTQ Poets To Give Your Flowers To Right Now":
Dawn Lundy Martin is a legendary poet who's work I've admired for years. Her poems are warm and urgent, and depict the trials and triumphs of life as a black person and a queer person. Martin is currently the director of the Center for African American Poetry and Poetics of the University of Pittsburgh, a program that builds off of the legacy of collectives like Cave Canem which seek to uplift and amplify the voices of black poets worldwide. When it comes to championing young black poets, Martin is certainly doing the work. Her poems often visit the violence that happens in domestic scenes and how the idea and space of a home can be tainted.