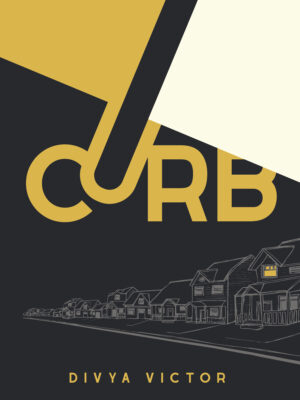 CURB
Curb maps our post-9/11 political landscape by locating the wounds of domestic terrorism at unacknowledged sites of racial and religious conflict across cities and suburbs of the United States.
$16.95
Divya Victor documents how immigrants and Americans navigate the liminal sites of everyday living: lawns, curbs, and sidewalks undergirded by violence but also constantly repaved with new possibilities of belonging. Curb witnesses immigrant survival, familial bonds, and interracial parenting in the context of nationalist and white-supremacist violence against South Asians. The book refutes the binary of the model minority and the monstrous, dark "other" by reclaiming the throbbing, many-tongued, vermillion heart of kith.
Praise
Divya Victor's Curb is extraordinary: it is a sobering poetic look at how white supremacy "curbs" the brown civilian who can slip between Muslim and Black, between terrorist and illegal. If they're not targeted for what they are, they're mistaken for what they're not—with sometimes fatal consequences. Victor explores the murders of South Asians in America with piercing acumen, re-arranging historical documents into wholly original compositional strategies that draws me in but also pushes me back. I can never know what happened, only perceive the disquieting absence of lives annihilated by structural violence. Layered, rich, and epic, Curb is an incredible collection that must be read and re-read.
Details
ISBN: 9781643620701
Paperback, 176 pages, 6 x 8 in
Publication Date: April 20, 2021
Reviews
"In poems of brilliant aesthetic diversity and haunting imagery ('Stop bath & rinse,/ then hang up this feeling/ by its arms'), Curb illuminates and challenges the boundaries that divide and discipline us."