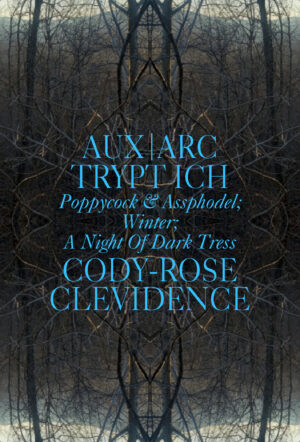 AUX ARC TRYPT ICH: Poppycock and Assphodel; Winter; A Night of Dark Trees
A triptych of wild lyric love poems that are, at heart, an ode to Arkansas.
$17.95
Set among blue Ozark creeks, hoods of trucks, and changing constellations, Cody-Rose Clevidence's poems call up embodied sensations as they arise, with love and anguish, in a specific place. Navigating between senses and the sensed world, in lyric lushness and density, Clevidence constructs an intricate and playful poetics both experimental and emotive to investigate the interplay between the vivid sensations of the body and the viscerally surrounding world.
Details
ISBN: 9781643621128
Paperback, 176 pages, 5.5 x 9 in
Publication Date: October 19, 2021