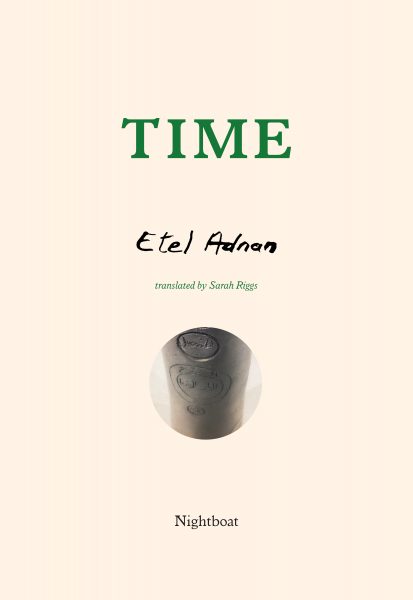 Blog
|
Sarah Riggs: Five Questions on Etel Adnan's TIME
July 11, 2019
This month here at Nightboat we have the pleasure of releasing a new English translation of the beloved and inimitable painter-poet-philosopher Etel Adnan's "TIME," orginally written in the French. Born of a series of postcard correspondences between Adnan and her friend, Tunisian artist Khaled Najar, "TIME" enfolds forms both familiar and new as Adnan poetically navigates the pain, disorientation, and sublime awareness of being in time—a thing illegible without place and body—with "exuberance and clarity." I quote the latter from translator Sarah Riggs, who I was lucky enough to ask a few questions of regarding her translative process, her relationship with Adnan's work, and their friendship. 
-June Shanahan
---
June Shanahan: I suppose I should start by asking when you first came by the work of Etel Adnan and how your relationship with her began? In your translator's note, you mention you found yourself reading the original "Le 27 October 2003" in Paris when you decided you wanted to produce a translation— was this your first encounter with her work or had you been familiar before that piece?
Sarah Riggs: I first met Etel Adnan in the spring of 2003 in Paris with her partner Simone Fattal through Omar Berrada, a Moroccan writer and translator who had met them at the poetry translation workshops at the Abbaye de Royaumont outside of Paris. I recall Omar had the over-sized orange Post-Apollo book of The Arab Apocalypse which Etel herself had translated from the French, and contains some fascinating symbol-like drawings amid the writing, and Simone and Etel would give us books when we would see them or they'd come over, in English and French, as she writes in both. I particularly loved Paris, When It's Naked, Of Cities & Women (Letters to Fawwaz), and In the Heart of the Heart of Another Country. I fell in love with Etel and her work simultaneously, and the exuberance and clarity and engagement you find in her work you find her art and in her person—it's all one. These poems spoke to me in their brevity, geographical and historical reach, and intensity, and I wanted to hear how they sounded in English.
JS: The aphoristic nature of Etel's poems, which we find in the initial couple of sections, is such that the reader often has a choice to consider each verse in tandem with those that come before and after, or to take each as its own instance. What function do you think this has in a collection entitled TIME, and particularly, what did that nature present to you as someone tasked with its translation? 
SR: Initially in the Tunisian editions of the first four sequences, there was one poem placed each on its own page, with the editor's own Arabic translation on the facing page. The Nightboat edition may invite more of this play around and back and forth, which I think is always available in Etel's work, because her words in these poems are like to swatches of color in her painting that are separate and connected to patches around them.
JS: Across the six sections, shadows are recurring, stretching over bodies and under trees "to better mingle with night," or they're markedly absent where it's suggested they should be. In translation, on a word-to-word basis there are decisions to be made, finding a word that best captures the original phonetics, definition, implications, etc. Were there any moments where you found yourself really challenged in making a particular word choice?
SR: I have translated many Francophone poets I know personally, and some have involved repeated painstaking discussions over vocabulary and syntax, that in one case had me abandoning the work as too hard to translate. But with Etel, perhaps because of all her years in California, and her having written and taught so many years in English, and perhaps even her relation to journalism, I just wrote the translation as if I was writing my own poem. I was grateful to work with her—she just made a bunch of marks, or in some cases decided to cut things—and we would go over them together. And Cole Swensen, Jérémy Robert and Alisha Mascarenhas had numerous helpful suggestions.  The word "ombre" may have appeared multiply—what I remember was "nuage" appearing repeatedly, and Simone and Etel have been passing me the sequences, and me thinking, this is too simple, just to say the word: cloud. But that is Etel, that's how she sounds in these poems.
JS: On the cover and frontispiece we're presented with a sculpture piece by Etel's long-time partner, artist Simone Fattal, an engraved ceramic piece as featured in "Garden of Memory" at Musée Yves Saint Laurent Marrakech. Can you speak to the piece's significance alongside these poems, and perhaps the broader relationship between Simone's and Etel's work throughout their lives?
SR: In Simone's "Garden of Memory" a number of the pieces are engraved with Arabic writing. Etel writes about how she did not learn Arabic writing as a child in Beirut, though she speaks it, and the writing has always been a particular fascination of hers. Her numerous liperello's (Japanese-style accordion books) largely play on the motions and script of Arabic. These short poems of TIME trace language as if on the elements, and are touched with references to Arabic "I reread/ the words of Al-Sayyab/ to ward off adversity." For Simone, who is from Syria, as for Etel, art and writing, including Etel's journalism, are woven together with the histories of Arab nations, and the patterns of what they each have focused on has also been influenced by war in Beirut, Syria and Iraq, as well as by Arab thinkers such as Ibn Arabi, whom Simone quotes in her work. The heft of the ceramics and sculpture is important too, and though it has been Simone's main focus in recent decades, Etel has also been involved in the more tactile art of weaving, and Etel was commissioned to travel around Morocco for several months, and wrote a book about its crafts. Simone and Etel have both made films, sharing an editor in recent years, and both have been devoted painters. The places they have lived have been very influential to both their work, including Etel's mother's native Greece, and Beirut, and California, as you see mentioned in TIME. Simone has devoted much energy to The Post-Apollo Press that has published so many poets and many of Etel's works. Both of them are enjoying retrospective shows around the world.
JS: The final section, "Baalbeck," in a break from the aforementioned aphoristic way of Etel's hand, opens with a kind of nod at a creation story. In reading through the book, I was trying to trace the movement of time and found that generally it seemed to fold back over itself, and this culminates with that final nod at creation while still holding an end in the death of the creating gods. Given that these poems largely came from postcard correspondence between Etel and her friend, I wonder if the flow (or anti-flow) of time was something that you kept in mind while arranging the section of this book? Can you talk about that process?
SR: Baalbeck is an ancient site in Lebanon that had for many years a prominent annual festival, which started up again after the civil war. Etel frequented it, and as an English speaker and journalist she was asked to pick up Nina Simone from her hotel, and other artists. In July 2015 she wrote me that she and Simone were attending a festival in Aix-en-Provence that was a joint venture with the Baalbeck International Festival. Ten musicians and five poets were invited and she was one of them. Her poem "Baalbeck" was written for this experience, and circled back, folded back over itself, as you say June, to times when she lived in Lebanon and no longer can go there now (she continues to take trains). "I will not come back/ to hear Ella Fitzgerald/ glide over the columns." So being in Aix connected her to the Mediterranean and her unusual biography of having Greek and Turkish parents who moved to Beirut because of war in Smyrna, of being from many places, and each of those places being like temples with histories that fade in and out: "There's a temple in Baalbeck/ dedicated to Bacchus,/ and in Bolinas a Night Palace/ that Joanne Kyger/ protects with her poems // under our/footsteps a ghost/ rises and instantly/ disappears/ because our countries/ keep going up in smoke."  In the twelve years between when she wrote the first sequence in TIME and the last – a collection which does not appear altogether as one book in French – I think she feels "Baalbeck" is connected to these ruminations around a postcard to an Arab writer and publisher, and even are a culmination of sorts, of rock, sky and art, memory, destruction, and the power of poetry to connect with the unknown.+
Order your copy of TIME here!
Also, check here for other books and collections from Etel Adnan + Nightboat!
---
Sarah Riggs is a writer and artist, born in New York where she is now based, after having spent over a decade in Paris.  Before directing Six Lives: A Cinepoem, she produced The Tangier 8 at the Cinémathèque de Tanger in Morocco, which was screened at the Berlin Film Festival and the Tate Modern Museum among other international venues. She is the author of seven books of poetry in English: Waterwork (Chax, 2007), Chain of Minuscule Decisions in the Form of a Feeling (Reality Street, 2007), 60 Textos (Ugly Duckling, 2010), Autobiography of Envelopes (Burning Deck, 2012), Pomme & Granite (1913 Press, 2015) which won a 1913 poetry prize, Eavesdrop (Chax, 2019) and The Nerve Epistle(forthcoming Roof Books, spring 2020/21). She is the author of the book of essays Word Sightings: Poetry and Visual Media in Stevens, Bishop, & O'Hara (Routledge, 2002), and has translated and co-translated six books of contemporary French poetry into English, including most recently Etel Adnan's Time (Nightboat, 2019).  She is the director of the international arts organization Tamaas (www.tamaas.org) which focuses on environmental arts activism. She is also a member of bilingual poetry association Double Change (www.doublechange.org). Sarah Riggs has taught in recent years at Pratt Institute in Brooklyn after years of teaching at the NYU and Columbia programs in Paris, and before that at the University of Michigan, Ann Arbor, where she got her Ph.D. in literature. Inspired by filming the dance of Stéphane Bouquet, choreographed by Mathilde Monnier for the Essaouira section of Six Lives, she is  doing a residency on a Casablanca rooftop mixing film, dance and poetry with La Source du Lion and making a film about four New York choreographer dancers.
Etel Adnan was born in Beirut, Lebanon in 1925. She studied philosophy at the Sorbonne, U.C. Berkeley, and at Harvard, and taught at Dominican College in San Rafael, California, from 1958–1972. In solidarity with the Algerian War of Independence (1954–1962), Adnan began to resist the political implications of writing in French and became a painter. Then, through her participation in the movement against the Vietnam War (1959–1975), she began to write poetry and became, in her words, "an American poet." In 1972, she returned to Beirut and worked as cultural editor for two daily newspapers—first for Al Safa, then for L'Orient le Jour. Her novel Sitt Marie-Rose, published in Paris in 1977, won the France-Pays Arabes award and has been translated into more than ten languages. In 1977, Adnan re-established herself in California, making Sausalito her home, with frequent stays in Paris. Adnan is the author of more than a dozen books in English, including Journey to Mount Tamalpais(1986), The Arab Apocalypse (1989), In the Heart of the Heart of Another Country (2005), and Sea and Fog(2012), winner of the Lambda Literary Award for Lesbian Poetry and the California Book Award for Poetry. In 2014, she was awarded one of France's highest cultural honors: l'Ordre de Chevalier des Arts et Lettres. Many of her poems have been put to music by Tania Leon, Henry Treadgill, Gavin Bryars, Zad Moultaka, Annea Lockwood, and Bun Ching Lam. Her paintings have been widely exhibited, including Documenta 13, the 2014 Whitney Biennial, CCA Wattis Institute for Contemporary Arts, The New Museum, and Museum der Moderne Salzburg. In 2014, Mathaf: Arab Museum of Modern Art mounted a retrospective of her work.