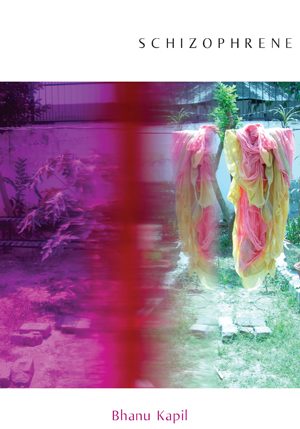 Schizophrene
A fragmented notebook investigates mental illness and trauma in the South Asian diaspora
Intergenre
,
Essay
,
Poetry
,
eBooks
$9.99 – $15.95
Additional information
| | |
| --- | --- |
| Weight | .25 lbs |
| Dimensions | 5.2 × .5 × 7.5 in |
| Format | eBook, Paperback |
Schizophrene traces the intersections of migration and mental illness as they unfold in post-Partition diasporic communities. Bhanu Kapil brings forward the question of a healing narrative and explores trauma and place through a somatic, poetic and cross-cultural psychiatric enquiry. Who was here? Who will never be here? Who has not yet arrived and never will? Towards an arrival without being, this notebook-book return a body to a site, the shards re-forming in mid-air: for an instant.
Praise
Poignant, rich, delicious, a book to return to again and again.
Details
ISBN: 9780984459865
paperback, 104 pages, 5 1/4 x 7 1/2 in
Publication Date: 2011
Reviews
Kapil overtly frames her book—which is constituted by eight sequences (or chapters) of narrative poetic prose—as an undertaking driven by social consciousness and personal investment. As her introduction, titled "Passive Notes," tells us, Schizophrene centers on issues of the self in a sate of extremity brought on by abusive structures of power. The book explores the effects of the partition of South Asia on the individual, addressing "the high incidence of schizophrenia in diasporic Indian and Pakistani communities; the parallel social history of domestic violence, relational disorders, and so on" (i). While the book contains substantial research, Kapil thoroughly penetrates the text with a first-person sensibility, providing us with a model of authorship that uses the self as experiential and empathetic instrument.