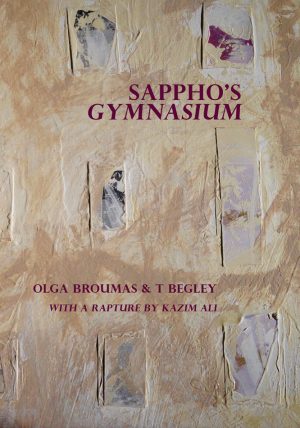 Sappho's Gymnasium
Olga Broumas and T. Begley include new collaborations in this reprint of a long out-of-print erotic and phosphorescent collaborative work
$16.95
Additional information
| | |
| --- | --- |
| Weight | .75 lbs |
| Dimensions | 5.8 × .2 × 8.8 in |
Nightboat Books is proud to bring back this long out-of-print ecstatic, collaborative performative work. Written and arranged in an experimental mode akin to music or choreography, these fragmented lyrics create space and resonance honoring the physical splendor of both the body and the poem. This new edition includes several new poetic sequences and an extended essay.
Details
ISBN: 9781937658595
Paperback, 120 pages, 6 x 9"
Publication Date: 2017
Reviews
Written as if by two students of Sappho in ancient times, fragments of whose work have survived, these poems offer brief, mysterious glimpses of a world beyond our ordinary reach… The poems read like translations from a language of ourselves that we can only begin to decipher. Their fragmentation embodies the human condition of brokenness, mortality and limitation. Yet the combined voice of the two poets also offers a prayer for healing, a hymn to the possibility of wholeness through love, through a difficult faith, and through poetry.