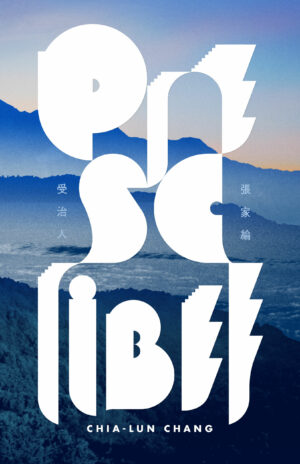 Prescribee
An arch, precise collection of poems that casts world-historical hierarchies in an aspic mold and serves them back to us on a warped platter.
$9.99 – $17.95
Additional information
| | |
| --- | --- |
| Weight | .3 lbs |
| Format | eBook, Paperback |
Reading Prescribee is not dissimilar to the experience of coming across a recipe in a vintage American cookbook: it transforms the familiar ingredients of contemporary life into an uncanny, discomfiting concoction. Wielding English as a foreign language and medium, Chang redefines the history of Taiwan and captures the alienation of immigrant experience with a startlingly original voice. Flouting tired expectations of race, gender, nationality, and citizen status, Prescribee is as provocative as it is perceptive, as playful as it is sobering.
Praise
Prescribee is full of surprises. The next page, the next line, even the next word turning away, or inward, or sharply upward in jagged spikes of feeling, controlled bursts of detail. Chia-Lun Chang's voice is clear and bright and highly engaging—yet somehow elusive, keeping the reader on the move, asking questions and in the process, lighting up pleasure centers of the mind and the heart.
Details
ISBN: 9781643621517
Paperback, 88 pages, 5.5 x 8.5
Publication Date: November 15, 2022
Reviews
The irony, and beauty, of Prescribee is that it does make a sound – it does (re)shape language and its possibilities. The result is a radiant collection that meditates on immigration, family, white supremacy, and the voice of the individual with searing commentary and musicality. […] Prescribee embodies that calcification of voice. Chang's lyricism, voice, and narrative will stun any reader poem after poem, bright and hard as bone.