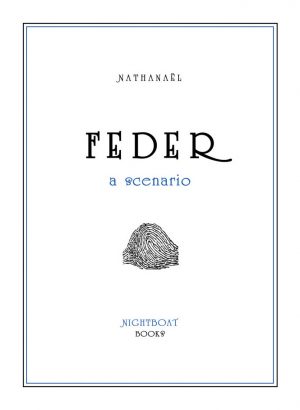 Feder
A singularly adventurous contribution to the worlds of mystery fiction, philosophy, and photography
$15.95
Additional information
| | |
| --- | --- |
| Weight | .35 lbs |
| Dimensions | 5 × .3 × 6.9 in |
With an English as ebullient as it is macabre, Nathanaël's novel plunges its reader into a filmic world redolent of unsolved crime and suspicion. Part noir, part philosophical investigation, part literary subterfuge, Feder tenders image over evidence as it exfoliates the inside-out life of its protagonist Feder, at once aloof and queerly omniscient, with a propulsive intimacy that all but breeds a sense of the narrator's complicity in the narrative's central travesty. In this reality, municipal sewer systems are brimming with bodies drifted in with the tides, the last century's architectures have gone unpeopled, and a minor mishap on a tram can cause the sudden death of a stranger across a continent. Feder offers no simple set of problems and solutions, but the texture of an electric curiosity at play in language.
Details
ISBN: 9781937658564
paperback, 124 pages, 5 x 7 in
Publication Date: 2016
Reviews
There are some works in literature that attempt to express the ineffable. Kafka was one of the practitioners of this dark art. Joyce, Beckett. The Modernist canon contains some of these heroic attempts to make intelligible a sense of the absurd that has crept into the consciousness and conception of human history, of human existence itself. Some writers, like the existentialists of the mid-20th century, used almost conventional narrative devices to convey to the reader what is being attempted. I think of Camus' "The Stranger" or "The Fall", or Sartre's "Nausea".
Within this tradition of Modernity is an oft-neglected strain of narrative and writing that arises with the early 20th century avant-garde. Cubism, Futurism, Surrealism; spanning countries as diverse as Russia, Italy, and France, these three movements of the avant-garde brought (amongst other artistic accomplishments) written works like those of Filippo Tommaso Marinetti, Emilio Settimelli, Daniel Burliuk, Daniil Kharms, and Velimir Khlebnikov.
The tradition of the experimental novel has far from been abandoned. Some writers have even gone on to have some success (or at least a succès d'éstime) with mild experimentation (such as Donald Barthelme, William Gass, or Flann O'Brien among many others).
But what is experimental literature? An easy definition is that it is written work that emphasizes innovation and technique. If this is the case, most experimental literature fails to interest because it is not interested in deeper subjects or themes.
In "Feder", the latest book by Nathanaël, experimental literature achieves a certain kind of apotheosis as technique is merged with a philosophical sensibility that creates a poetic vision of darkness that is both mesmerizing and aesthetically beautiful…