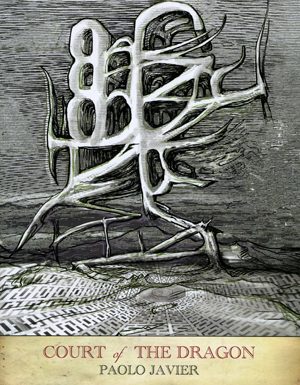 Court of the Dragon
A new book of poetry exploring domesticity, desire, and dreaming by the Queens Poet Laureate.
$16.95
Additional information
| | |
| --- | --- |
| Weight | .7 lbs |
| Dimensions | 7 × .4 × 9 in |
Javier's new book of long poems is both intimate and elusive, a simultaneity brought to the fore by the author's interest in the occult and intuitive processes, in oblique and plain spoken discourses. Politically and erotically charged, Court of the Dragon eludes programmatic ideology, packaged identity politics, and confessionalism in its interrogation of the praxes of everyday living. Written over the course of a year, this striking new book conjures its future through intuition, improvisation, and magick.
Praise
Like all true language artists, more or less politically radical, Javier realizes the necessity of Mallarmé's, and Derrida's, and his, and others' double séance belonging to no one, the possibility that the best move might be away from a mimesis that repeats already espoused ideologies—regardless of content—in favor of an attempt to gigilate into unforeseen utopian spaces of a miming that gestures, potentially but not necessarily, as an image field preceding and superseding and unseating "originary" models in the simple sense of the term.  This creation of a magical space, this medium writing, explodes dialectics in a way that allows language to pour through, torrentially, as if through a broken sluice.  It is in this way that writing, whatever its politics, becomes truly prophetic, where prophecy has the potential to become the new real if not the new realism.
Details
ISBN: 978-1-937658-36-6
paperback, 136 pages, 7 x 9 in
Publication Date: 2015
Reviews
Like Schrodinger's cat, our good author Javier could, probabilistically speaking, be alive or dead, inside the box or not. In that sense, your boy is "extraneous" in mood, whether inside or outside Who's police box which is only a disguise for the machine itself and whose dimensionality on the inside does not reflect its relatively diminutive "extraneous" size…