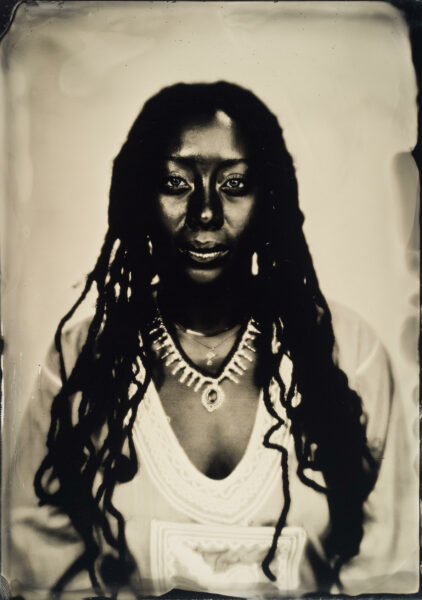 Blog
|
An Interview with Jasmine Gibson, Author of A Beauty Has Come
November 7, 2023
Jasmine Gibson and I first met and collaborated on a performance project in 2019. Since then, we've read together, celebrated and dreamed together. From stages to zoom rooms, I've had the honor of experiencing Jasmine's spacious facilitation of ideas and language in conversations with fellow artists.
I read a version of her resplendent second poetry collection A Beauty Has Come in 2022 (out today from Nightboat). Revisiting it now, I might draw this throughline to her debut collection Don't Let Them See Me Like This (2018): Jasmine's poems take state-sponsored violence not as spectacular interruption but as a regrettably ordinary and ongoing material condition. From this view of history and our present, A Beauty Has Come illustrates immediate possibilities for intimacy, comradeship, resistance, wanting, imagination, remembering, and of course, beauty. In our email conversation below, we discuss the bust that inspired the collection's title, her reading and citational practice, and how her relationship to these poems evolved over the course of the pandemic and the ongoing upheaval of 21st century life.
—Benedict Nguyễn
---
Benedict Nguyễn: I'm so honored to get to correspond with you about A Beauty Has Come, whose title calls forth Nefertiti. As the title refrains throughout the work, Nefertiti transcends her mythography. She has flesh, present tense. How did the sculpture you encountered inform the opening poems and the incantation throughout this poetic world?
Jasmine Gibson: Great question! Yes, flesh, the present, informing the fleshy past and future. This is exactly right. When encountering the bust I was thinking of the historical material conditions where both I and the sculpture could exist. Spooky actions and not necessarily locally real. The movement of the sculpture. The movement of the people that make me. The movement and choices offered that allow us to exist at the same point. This is what I was thinking. I was thinking about the movement in Nefertiti's name. "The Beautiful One Has Come", suggesting a preceding movement, or a prior origin point. The beautiful one has come to the valley of Berlin by the theft made by colonizers. I was thinking of Nefertiti's image of Black Power and Beauty in the Black Diaspora. The Beautiful One Has Come To Name Her Herself In Her Own Image.
I wanted to capture this physical, lyrical and psychic image. Nefertiti has become a shorthand for multi-varied meanings and has become something larger than her name. I am also thinking about how conceptually beautiful things arise. Such as solidarity, heterogeneity, collective righteous rage and how all of this is pertinent especially at times of bleakness, and the celebration of brutal death. How we need those beautiful life-affirming connective feelings to arrive and remake us sonically, psychically and materially. Life keeps remaking us, whether we want it to or not, Cronos time, and how impermanence and revolt are the only things that can be constant.
Benedict Nguyễn: There are so many references to texts across mediums—from music, literature, theory, visual art, and more—one could spend years engaging the potential playlists and reading lists from this collection. Elsewhere in the source text of the Hortense Spillers epigraph, she discusses "fragmented social objects [… in a] scene of scission and displacement." How did you think about weaving in the numerous citations in A Beauty Has Come? Were there any that came early and/or late that feel particularly meaningful? If so, how did those texts enter your consciousness?
Jasmine Gibson: Yes! I feel like A Beauty Has Come, is a conversation I was having with so many different people, weather, plagues, movements, animals, concepts, feelings, flesh, and places that I wouldn't have previously had the opportunity to have at another point in time. Once the pandemic came, I was able to get into that High Priestess energy, between Harlem Hospital, ice trucks full of the dead in Harlem, long facetime calls with friends and family, my elongated honeymoon, practicing therapy virtually, receiving therapy virtually, witnessing heartbreak and powerful mourning on the side of life in 2020 and the best of all, listening to music and reading. I was in the midst of my Saturn Return and felt stuck, physically, spiritually and emotionally. I became unmoored once I began to revisit and discover new things about myself.
Prior to 2020, I was in a state of confusion, and I allowed myself to change. I developed a body practice, and I had two great therapists that encouraged me to become who I need to arrive to be. Then I began to get deeper into listening, listening within, and listening intersubjectively. Music has always been a safe space for me, so it was in some ways a "back to basics" and I got a better vinyl record player! I would listen to "Return of The Super Ape" by Lee "Scratch" Perry and The Upsetters front to back then begin reading Black, White And In Color by Hortense Spillers and then followed up with Volunteered Slavery by Rahsaan Roland Kirk with Jazz Fan Looks Back by Jayne Cortez.
Betty Carter, Hortense Spillers, The Gibsons, Erica Edwards, The Beach Boys, Thulani Davis, Alice Coltrane, Kuwasi Balagoon, The Bad Brains, Samiya Bashir, Roberto Bolano, Kate Bickmore, Benedict Nguyễn, Dorothy Ashby, Kay Gabriel, Spellling, Béla Tarr, Jadu Heart, Primo Levi, Kathleen Collins, John Rufo, Eula Mae Ford, Jodorowsky, Stephanie George, Soleil Summer, Grace Jones, Courtney Garvin, Edward Said, Cecil Taylor, Mary Lou Williams, Liv.E, Kelela, Félix Guattari, Alexis De Veaux, Amilcar Cabral, Tera Hunter, Siouxsie and The Banshees, Can, Manuel Arturo Abreu, Nat Raha, Taylor Gibson, Max Fox, Toni Cade Bambara, Ra Malika Imhotep, The Bakers, Asiya Wadud, Lou Cornum and so many others. These are the people I was thinking about when writing this book. A whole choir of people who had something important to tell me.
Every book had a soundtrack and every soundtrack had a movie and the cycle would repeat itself. We were also reading a lot together! That was really fun to read together in what I would call a Black Materialist Feminist framework with Marx alongside Morrison alongside Cabral alongside tarot. As it should be. I was using Tayannah Lee McQuillar's Hood Tarot deck all the time (and still do). I read JesusDevil by Alexis De Veaux, which really gathered my ass together as I wrapped up my book. My friend Evangeline Getty Brooks introduced a writer to me right at the end of finishing the touches on my book, Junauda Petrus' Can We Give The Police Departments to The Grandmothers? and it was exactly what I needed, and was the perfect sign to end. It began and ended with this line: "Grandma is a sacred child herself, who just circled the sun enough times into the ripeness of her cronehood."
Benedict Nguyễn: How were you thinking about form and shape for this collection? How have your poetic strategies evolved since Don't Let Them See Me Like This?
Jasmine Gibson: With A Beauty Has Come I allowed myself more freedom. I think with Don't Let Them See Me Like This, I was very concerned with what "this person" or "that group" thought about me, even though in my own young punkish way, I thought I didn't care at all. But I did. And worse of all, I allowed that denial to make myself small in ways I didn't even notice. Which meant a lack of play, a lack of allowing myself to actually be a "poet". I think I listened to people with very limited visions, allowed myself to follow their idea of what a "poet" was. Which meant to say "I'm not poet". Which then became confusing, because then if I am not, what am I? It seemed to me everybody called themselves any ol thing. And cowardly, meek bitches that I didn't respect got to call themselves "theorist", "poet", "artist", "scholar", "militant". It was a trick, and the trick has worn off. I'm much more hipper to the lame games people play when they say those things. Words are powerful. People will have you reciting a self-binding curse in a min. I know this. I work in multiple fields where words have literal and material consequences.
So, I let myself be a poet, a scholar, a theorist, a militant, and asked myself, where am I going to go now? With the help of Lindsey Boldt and Jaye Elizabeth Elijah, I was able to refine my vision. They both really pushed me, and we together created something that exceeded our expectations. A Beauty Has Come has its own heft, weight, largeness to herself. I really loved playing with images, symbols, and language. My mom and sister's dad's favorite poem is "Black Sound: A Call And Response" which I felt was a uniting of my upbringing in Mystical working class Philadelphia, my New York identity, and then a reckoning of what I become in travel. The funny thing about A Beauty Has Come was that after writing, editing and then eventually printing the book, it took on a mystical element. She was lost, stolen, found and then dispersed at the right moment. We couldn't find the book, and then eventually it appeared. And now I have so many friends, old and new, that are meeting her arrival. Just like a Scorpio, she is comfortable in the dark and light. Both poison and libation. I really love her, she has already healed wounds I wasn't aware of.
Benedict Nguyễn: As the pandemic, and its concurrent intensification of fascist politics, festers on, I'm curious how any particular patterns that emerged or became more acute in lockdown shaped the growth of the collection.
Jasmine Gibson: Whew! This question especially given the multiple genocides happening in Palestine, Congo and multiple countries demanding reparations for the climate catastrophes that have happened as a result of colonization is definitely on my mind and when I'm thinking about my poems. A Beauty Has Come was written, similar to Don't Let Them See Me Like This, against fascism, revisionism, neoliberalism and all the cowardly ways capitalism seeks to make living a truncated life attractive. As Toni Cade Bambara stated, "The role of the artist is to make the revolution irresistible." That is what A Beauty Has Come is about. I am not interested in arguing about what, who, what is beautiful. I am here to define what is beautiful to me and what has revolutionary potential. The poems are shapeshifters on the side of life, and the whole of life. The ugly, the miserable, the opportunities, the fantasies, the choices we are offered. Making a way out of no way. They are dreams that I believe can be applied to reality because what are we but dreams and nightmares of someone's past and future? I believe A Beauty Has Come will continue to morph the longer that she is out of my grasp and I don't think she was ever totally mine. And that's the point. I cannot wait to see how she morphs in the reader's lap and hope she continues to make friends and new possibilities.