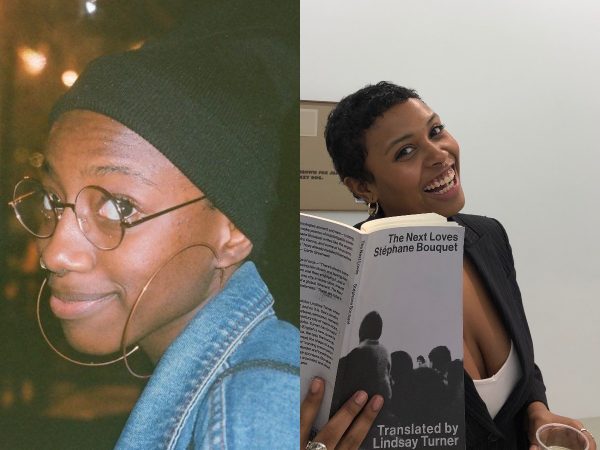 Blog
|
Taking a Look Back On Our Interns, Fall 2019!
March 27, 2020
Our interns make the Nightboat world go 'round!
Each Fall, Spring, and Summer we host interns who are interested in learning about the independent publishing world in a hands-on, intellectually stimulating environment deeply enmeshed in the writing scene here in our beloved New York City. We love building community and cherish the opportunity to meet so many promising, talented, and passionate folks, who go on to become a part of the Nightboat family. We hate to see them go but we jump at any chance we get to celebrate them. Here, we're celebrating our fabulous Fall 2019 interns, Jaye and Lucky: read a bit about who they are, what they do, what they accomplished during their time at Nightboat and what the future holds for them!
---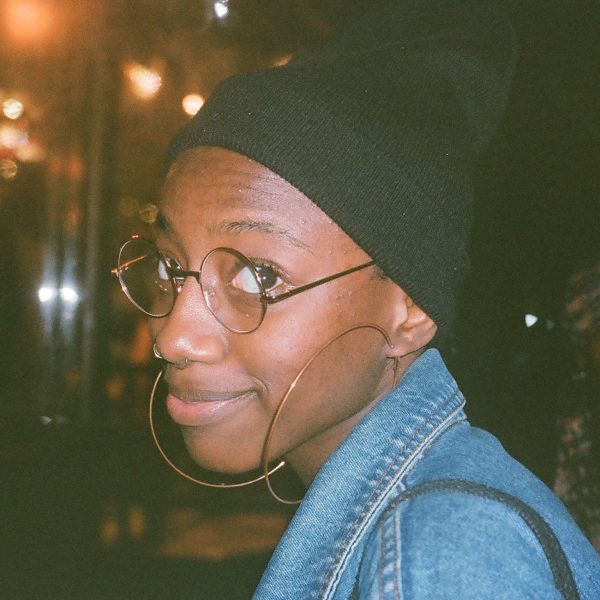 Jaye Elizabeth Johnson
Where did you grow up and how did you find your way to NYC?
I grew up in the 'burbs of Cincinnati, Ohio and came to New York to attend The New School for my undergraduate studies. While my school is in Manhattan, Bed-Stuy has my heart! Though I'm a firm believer that queer people can have flourishing lives outside of the city, the Bay, and LA; New York is where I came into myself. Where I came out. I also believe that writers can have flourishing literary lives across the country, but I found a home here, in the Nightboat community, and I'm so grateful for that.
Most memorable moment during the internship? 
I did some writing about Meena Alexander's In Praise of Fragments. It was the first hands-on experience with publicity copy and talking about a book without the academic lens. I was touched by the care this book required, and I was so willing to give a piece of my heart. It's a moving collection.
It's been such a privilege to come to the office and be surrounded by books, and to work with people who helped bring them into the world. So many of these titles have had the same effect on other readers. I was always interested in publishing, which is why I applied to the internship program, but it's a whole other thing to see folks behind the scenes fight for the proliferation of language.
Biggest takeaway or most significant point of learning? 
As a writer, I know discipline is crucial to my practice, but beyond the actual writing, there is a social life in poetry, and it's important to participate. Meeting writers, staffing events, and forging connections has deepened my relationship to the work. You can be in conversation with other writers through reference, but you can also literally be in conversation with them. Most people aren't out of reach when you meet them halfway and realize you have something to contribute to the discussion.
What/how do you like to write? Can we find it published anywhere? 
I write poetry and experimental essays, and dabble in short stories that may actually be poems. I'm also a visual artist! Publication has taken a backseat recently, but I have an essay forthcoming in Gender Recovery, an anthology from Jessica Kingsley Publishers. And if you want to see what I was writing about in high school, I was featured in Polly Magazine as a young creative. I've come a long way since then!
What are your astrological placements!? 
I don't know if I can share my chart with the Internet, but I will say I'm a Virgo sun, earth rising, with a fire moon and a fire stellium (three planets in the same sign). The takeaway is that I'm volcanic. I have a stable, serious exterior but there's a lot of energy and fierceness at the root of me.
Looking forward, what's on the horizon? How has this time with Nightboat guided/aided/influenced that?
Nightboat has gotten me excited about book reviews, and I'd love to write some in the future. I'm currently working as Publicity Assistant here in a staff capacity! At the same time, I'm completing my degree and tutoring children. My love for language and learning has been reawakened, and I see myself continuing to share that with young people. In my studies at Parsons, I'm taking the book-making process into my own hands and learning letterpress and book binding as well. I'm thrilled about what is in my future there, and Nightboat has definitely had a hand in it. I love the book as an object, and when you love to use your hands, it's hard not to get excited about making one yourself.
---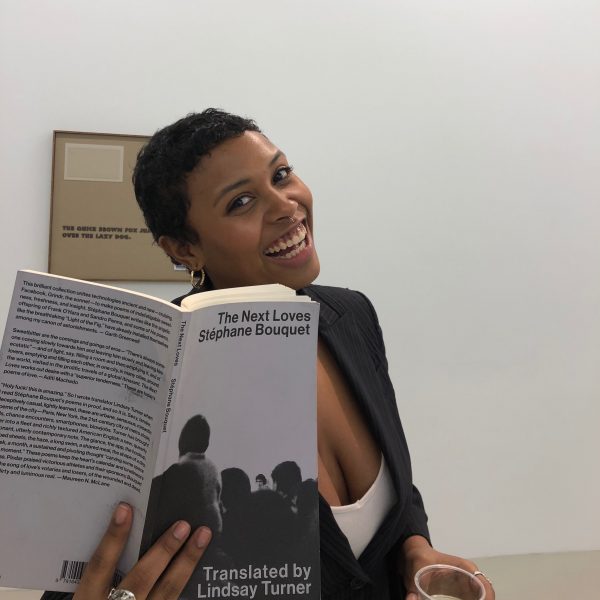 Lucky R.
Where did you grow up and how did you find your way to NYC?
I was a student at Oakland School for the Arts for seven years, four of which were spent in the Theatre department. So it made sense that at an extremely young age, I had a longing to be in New York. Around my freshman year of high school, I decided Theatre wasn't my thing, and was encouraged by an English teacher to join the Literary Arts emphasis at OSA.
What I didn't know at the time was that I needed writing as a catalyst for my healing. In the beginning of my journey as a writer I considered myself a poet. Yet the more I explored creative nonfiction, the better represented I felt on the page. I was able to work through trauma because the writing demanded that I work through it. Nonfiction forced me to write the truth, and in turn to live my truth.
Luckily, New York doubles as a literary hub, and so my dream to come to NYC was fulfilled, although I imagine it will soon be my time to move elsewhere, to move beyond what is expected.
Most memorable moment during the internship?
I would have to say that having a dog sniff my leg whilst reading from The Next Loves by Stéphane Bouquet & translated by Lindsay Turner, while Stéphane Bouquet was watching, was the most memorable moment of my Nightboat internship. Ha!
On a serious note, every single book launch I went to was memorable in its own way. Seeing the way a book can cultivate a space of praise and love for language is beautiful. No matter the genre or age of the writer there was always a young spirit of possibility: that their words matter and that people care to own their books is a warming experience in and of itself. Shout out to Cyrée Jarelle Johnson, Xandria Phillips, Marwa Helal, Douglas Crase, Stéphane Bouquet, Lindsay Turner, Sarah Riggs (Etel Adnan of course), and Zach Ozma & Ellis Martin. You have all inspired me beyond belief.
Biggest takeaway or most significant point of learning?
If there's anything I've taken away, it's that the connections you make are key. On the other side of that, I would say make sure those are the connections you truly want to have. Like any other scene that deals with a degree of fame or being "known" or recognized, people can feel a pressure to align themselves with those in the literary limelight. I am a firm believer that manifestation will get you exactly where you need to be, that and dedication to your craft of course.
I would also say to make sure you are aware of your relationships to people in positions of power. As a young writer I see that the literary world is still a very white, male dominated place. And just because there might be a community of people that look like you, or identify the same as you, it doesn't mean they will share the same frameworks of thought as you.
The literary scene still needs to make space for ignorance and to be critical of the limitations that exist within it due to its white male forefathers. The English language is in and of itself violent, and so we need to make sure queerness is not just a sexuality but a framework we are maintaining through business and pleasure (the pleasure of reading or writing).
What/how do you like to write? Can we find it published anywhere?
I am primarily known as a nonfiction writer. Although right now I would say this genre is more of a transitional phase for me (in the same way that poetry was an introduction to nonfiction). Eventually I would like to move on to literary based visual art. Think Jenny Holzer but way more abstract and experimental. My colleagues and I have been feeling frustrated with the limitations of the page. Why is it that literary art is mainly in the format of the book? I find this to be incredibly inaccessible to the audiences I would like to inform, that audience being young people of color.
I'm not saying reading is dead, but I am saying that in the age of capitalism, images are a form of currency. So how can we queer that currency? By which I mean, how can we flip it on its head to serve the purpose we want to see represented. This is not a form of resistance but a form of imagination. "Visuality" is power, "visuality" is freedom.
Right now I understand that I am in a position of growth. I don't exactly know what literary based visual art looks like yet for me. What I do know is that I am on my way to knowing, via the "perfection" or attempt of mastery of the structure of storytelling.
As of right now I have a couple things published, but will direct readers to my first published essay titled, "Five Attempts" that can be found in the July/Aug 2018 issue of Women's Review of Books.
What are your astrological placements!?
Capricorn sun, Libra moon, Sagittarius rising baby! It's a great and very balanced combination. My other placements are mainly in Libra or Aquarius, I'm constantly weighing out every single option and driving myself crazy in the process.
When it comes to love, my Venus is unfortunately in Aquarius. I don't crush easily, but when I do, I crush hard and with intention. Which actually isn't that sad for me, but sad for the people that experience desire for me. Oh well!
Looking forward, what's on the horizon? How has this time with Nightboat guided/aided/influenced that?

What's on the horizon for me is sitting with myself. In a recent meeting with my studio teacher he was able to communicate that I have self-work that needs to happen in order for me to truly free myself on the page. Although I am writing nonfiction, my personality isn't shining through, so there's a necessity for me to tap in with myself. I'm currently working on an essay that does just that, so hopefully that will be released into the world within 2020.
Nightboat has provided me with a great sense of where I can be with enough hard work, and how that work actually functions in a place like a small press / publication. With all of the amazing writers that move through Nightboat, I have had an endless amount of inspiration for what showing up on the page looks like, showing up and showing out too.
I will never take this experience for granted, and with the help of all of Nightboat's miraculous books, authors, and staff members, I know I have the power to rise to greatness.
---
Read more about our internship program here!