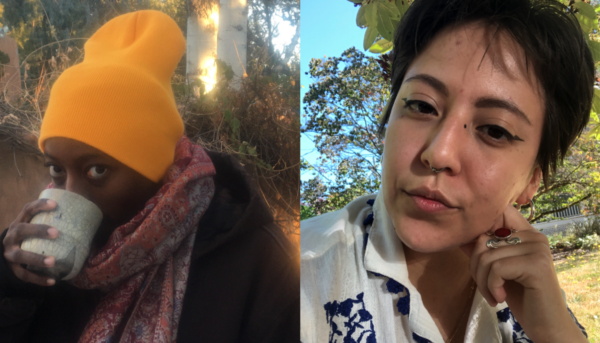 Blog
|
Jaye & Santi: a parting conversation
February 19, 2021
Nightboat Books initiated a new fellowship program in 2020 and was fortunate enough to have two incredible individuals in the position: Jaye Elizabeth Elijah (Spring-Summer) and Santiago Valencia (Fall). They made incredible contributions to the press during their tenure. Jaye, while a fellow and then our publicity coordinator, curated the Resonance: Echo series in response to the start of the pandemic, hosted the summer fiction reading, and did invaluable publicity work and outreach. Santi commissioned new contributors to our blog and brought their keen eye and wit to writing and editing projects. Here, Jaye and Santi look back on their time at Nightboat in this conversation conducted over email. Keep an eye out for these brilliant writers, thinkers, and creators; they're going to do great things.—Stephen Motika, Publisher
---
Santiago Valencia: I know you're settling into a new home space in New Mexico. Do you see yourself staying in the desert for a while? What has being in this new landscape opened up for you? 
Jaye Elizabeth Elijah: I think this is home, at least for this year. I had a lot of ideas of what might happen when renewal came with spring and summer, where I might reap after the harvest months, but New Mexico is calling me. Many people go to the desert to discover what has been escaping them—Jesus included. There is something about the climate that fosters creativity and exploration, and surfaces the frenetic, shadowy energies that can no longer be denied. It is a great place to mourn, which very much feels like the energy of this past year and those coming.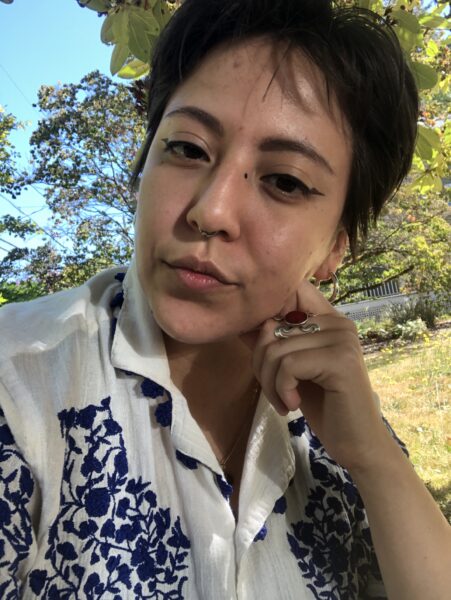 JEE: You recently relocated from Portland to a hometown of yours. What has place and relations meant to you both before this global upheaval and mid-pandemic? Has home shifted anything in you?
SV: Absolutely. I've been thinking about and practicing so much grieving lately, having returned to Knoxville, Tennessee, the site of most of my childhood and teenage years with all these little deaths, little old me's in tow. It's strange. I've never really felt connected to this city. I joke with my friends that this house could be anywhere and it wouldn't change how I live, since I never leave. That means I divide my time between my family and the interior, where I'm doing a lot of cleaning & redecorating. I'm still over-archingly devastated by the state of affairs in this world, yes, but I'm also becoming much more satisfiable, more prone to delight. I love small domestic intimacies and rituals. Starting to write again is definitely related to these shifts in space.
SV: What is your writing practice looking/feeling like lately? What new directions do you see your work taking? 
JEE: I'm in the camp of those who have trouble finding their way to poems during crisis. Sometimes poetry seems so pointless, like an exercise in privilege. But I have been journaling as a part of my practices of self-connection, and when I read them back, I read poems. And those diaristic pages make it possible for me to continue to be in the world and in community. I have faith that poems meant for sharing, printing, publishing will emerge.
Much of my poetic practice has instead been reading fragments of collections and poems shared on Twitter. Much of my poetic practice has been reading fiction! 
JEE: There have also been some real shifts in the literary and poetry landscapes as of late. How do you see the role of  poetry—reading and writing— taking shape in your life? In your political or personal orientations? To invoke Nightboat author Meena Alexander, what use is poetry for you?
SV: Ahh, I'm in that camp too. To be honest, I've only recently (and with the help of Nightboat), arrived at a new iteration of my complicated, ever-shifting relationship with poetry. I so agree that it can often feel inconsequential through crisis. But I remain firm in believing that writing poems is brave. Especially now. I think poetry helps return us to ourselves and consequently, to each other.
I'm also, of course, thinking about WE WANT IT ALL, and the evidence it provides for the possibility of poetic thinking to collide with our politics, complicate and clarify them. This means becoming more discerning about what my poems are actually doing. It means more intentionality, more inquiry. But also, more play, more celebration!!! I'm very invested in those particular resistances right now.
I have to credit Tarot cards as an important ally in my reconnection to poetry. I've been thinking about and working with my deck as a kind of text, and readings as poems.
SV: What other practices or passions are your nurturing? What's tugging at and guiding your heart?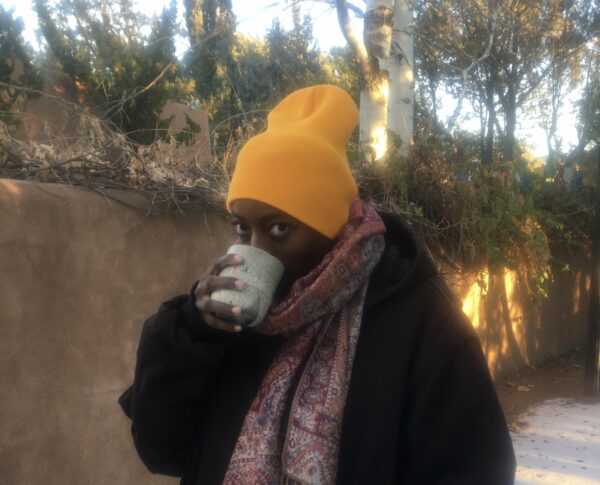 JEE: You actually mentioned tarot reading as a way to make poems, and I've been crafting collage based on the archetypes and suits. It's been a powerful way to reconnect with my creative spirit and my spiritual center, and I hope it makes poems. I'm a stress baker and I've been inviting more experiments in the kitchen (so I can have some pretty yummy breakfast treats to eat with coffee and tea). I'm learning to play the banjo—love me some bluegrass. I want to paint again. I have an impossibly long list of hobbies and projects I want to tap into, and a simultaneous draw toward rest and reconnection.
And in a world that is showing its true face and facing upheaval, I find it vital to my survival (and all of ours) that I nurture new Albuquerque relationships with my neighbors and trade my BA for autodidactic studies in Black queer global liberation. There is so much the university refuses to teach because it would mean the end of the world, and the end of academe. 
JEE: We surprisingly connected on letterpress printing before we even met! What does typesetting and book-making mean to your writing and the ways you've found a path to small-press publishing and beyond? 
SV: I'm so curious about how the aesthetic and sensory experiences of a book shape our affective response to its text. I've been practicing calligraphy for a few years now, which has given me such a profound appreciation for letter forms, how they are truly tiny bodies. I like how working with type and book materials immerses me in the writing, invites my body into the making and reading. I like that letterpress printing is slow and intentional, a more thoughtful means of production that resists the capitalist impetus towards mass production and efficiency. Which is one of my favorite aspects of small publishing, too. 
I also love risograph printing, especially as a DIY, sustainable way to distribute radical writing (See: Co-Conspirator Press). I hope to print my own book of poems one day! 
JEE: Like my and your roles in creating content for the Nightboat blog and elsewhere, what gets you excited about opportunities to curate writing, image, and event spaces? What's next for you?
SV: After the mess of 2020 and way too many months of isolation from the people I love, it's the nurturing of community that I am most looking forward to. I have big dreams of hosting community-based writing workshops and reading circles one day. I just want to sit around and gush about poems with people who inspire me. I hope that comes soon. 
SV: It's been such a delight to get to know you and work with you these past few months, Jaye. I'm so excited to see where you go from here. What's something you'll be taking with you from Nightboat? 
JEE: My time at Nightboat has been transformative as a young professional, as a communicator, as a poet. I've grown into my own voice, confidence, and strengths. I've worked with and reached out to powerful cultural producers, writers, and forces in this industry. Though I'm physically taking the books I've been able to contribute to over the last year and change, I'm also taking a deep gratitude for my coworkers and the ways our collaborations have expanded my perspective and given me so much support. (But they haven't quite gotten rid of me! I'm so excited for what's coming next.)
---
Santiago Valencia is a Latinx poet and devotee dreaming of radical queer futures. Their work often concerns childhood, trauma, and the dreams & desires that shape our destinies. They're currently living in Knoxville, Tennessee, pulling tarot cards, rollerskating and hanging with their cat Goya.
Jaye Elizabeth Elijah is an orbweaver. Their practice connects art and poetry, visual media and the land, teaching and pleasure. Jaye Elizabeth holds a BA in Literary Studies from the New School. They float between the hills of Ohio and the horizons of New Mexico.