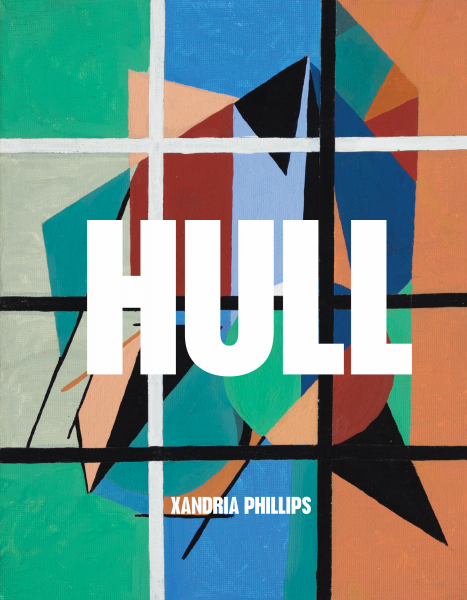 Blog
|
HULL: An Interview With Xandria Phillips
November 13, 2019
Someone recently asked me about contemporary queer poets that I would recommend—a considerably hefty question to ask a person, since there are just so many great queer folks truly spearheading poetry scenes everywhere right now—and one of the first that came to mind was Xandria Phillips. Their debut, HULL, out last month, was one of my favorites this year. In 80 pages, Xandria packs in everything a reader could want, seamlessly bridging formal play with thematic substance. The anti-colonial never wavers, adamant and dynamic in its deployment by Phillips throughout HULL, as it's woven through historical contexts and pulled towards personal, emotional experience.  Also, Xandria is just a cool person. More than a poet, they're a nascent painter (see HULL's cover art for reference) and a passionate TV-show analyst, and they were kind enough to talk with me about their latest project, its themes, tokens of affection, and more savory stuff. Check out their new book and go hear them read!
—June Shanahan
---
June Shanahan: You open the book with the poem "YOU AND I", a piece whose form could be read column by column, but also across gaps, kind of through columns, opening possibilities for different poems to come forth. This kind of dynamic takes so much careful work to build, so much attention at the site of each word, and it reoccurs in a few other poems in HULL as well. Can you talk about what kind of process went into crafting these particular poems, and perhaps the processes in writing the book as a whole? Where did you begin?
Xandria Phillips: "YOU AND I" is a contrapuntal, meaning it is intentionally crafted to be read as two separate columns, as well as all the way across. I like this form because I think it is a great place to start if you want to showcase polar instances and the ways they might overlap and diverge. I often think about this phrase written by Elizabeth Alexander, "Many things are true at once." "YOU AND I" began as two separate poems. I made them face each other as columns, and then word-by-word, shifted the language until they were speaking back and forth with each other. The hours clocked here were staggering.  I wrote the brunt of it during my MFA and picked the poem back up about two years later to make some final changes. Poems like "STRESS DREAM IN THE KEY OF PROZAC" nod towards this form, while rejecting a consistent passage across sides of the poem. This speaks to a process of divergence that exists in HULL primarily as subtext.
JS: Next to hefty lines like, "I am here because I could / never get the hang of body death, though it has been presented to me like one would offer a roofied cocktail / or high-interest loan," you write, "I am only here because I am ineligible / to exist otherwise." I'm curious to hear more about the eligibility you're alluding to—where is the 'here' that you are situated in this poem?
XP: This line borrows from Terrance Hayes a bit. His line from "Lighthead's Guide to the Galaxy," "I am here because I could never get the hang of Time." I'm interested in the way existentialism is at the forefront of this poem. The "here" I am referring to feels split between the present within the poem, the here throughout writing the poem, and the actual present. I consider eligibility to be a form of human legibility. Can I be read in a fashion that elicits humanity when I am in need of help? In moments when I advocate for my own health and well-being, I can feel the way that global history has led me to this acute moment or "predicament of Blackness." One's eligibility for help or resources is so often mutable within Blackness.
JS: Though there aren't really 'chapters' necessarily, HULL has a few sections that kind of coagulate, one of which is a series of two-stanza poems that flow out under the heading "INTIMATE ARCHIVES". With titles like "Angola Penitentiary," "Tulsa 'The Black Wall Street' Bombing," and "The Tuskegee Experiments," they all kind of nod at particular places and events in American history. What, would you say, is their common thread? Were these all written together or did they kind of come at different times throughout your writing of HULL?
XP: I wrote these pieces together in a series while considering Maafa, also known as the African Holocaust. Maafa takes into consideration the centuries of torture, occupation, enslavement, and scientific racism that Black people have experienced. There is an unearthing quality to this piece as it incorporates both common knowledge, and lesser-known instances of violence. At the time that I composed this piece, I was in graduate school. I lived in an atmosphere of anti-Blackness without a proper witness. This idea of witness carried over into "Intimate Archives" as I began with the idea that amidst any disaster you might find two people struggling to maintain their love and care for one another. In my work, I try to both dissolve and amplify these wide-spread events into hubs of inwardness and communion.
JS: There's another series of poems later in the book wherein you're doing these diurnal chore-like things or going on adventures with these different iconic Black cultural figures — folding laundry with Sara Baartman, self-medicating with Michelle Obama, escaping Virginia with Vester Flanagan — and the spectrum of their icon-statuses, if you will, is super wide-spanned. What was the drive for bringing these otherwise fairly disparate figures together, especially bringing them together in the kinds of scenarios in which you do?
XP: I love this question. I am forever a student of Black studies as both historian and futurist, and because of this, I felt an urge to collaborate with figures I feel pulled to. Anarcha, Edmonia Lewis, Michelle Obama, Sara Baartman, and Vester Flannagan have two things in common: their Blackness, and an astonishing trajectory.  I am in many ways writing these figures out of relative obscurity, Vester and Edmonia for instance, who shared landscapes with me, and feel imperative and singular in their navigation of identity and freedom. Michelle Obama is a figure that is hyper-imposed into my imagination, and I wanted to take the opportunity to shuck some of her grandeur for familiarity.
JS: It's really difficult for me not to just read all of my favorite lines back to you because there are just so many, but I'll settle for this: the poem "WANT COULD KILL ME," the line "I want to buy you / a cobalt velvet couch / all your haters' teeth / strung up like pearls" had me not just smiling but also thinking about tokens of love and the lavishness of desire (especially queer desire). What was the weirdest/coolest thing someone has given you, or that you have given another person, as a token of affection?
XP: Tokens of affection might just be my love language, but you probably guessed that from reading "WANT COULD KILL ME." Last year my friend KT, who is a visual artist got me a copy of the book Interaction of Color by Josef Albers, as well as a gouache set. Gouache is a hyper-pigmented acrylic paint. They got me these gifts after I gushed to them at a bar for an hour about color. I later used this set to paint the cover of HULL. I was so moved because to me, application is everything, and here I was given material to learn from, and an elevated means to practice it. I think gift-giving is wild because it's a way to change or bring change to someone else in a non-compulsory way. This gift in particular altered my path considerably.
JS: What kinds of projects are you working on now? Where can we follow you as you go forth with your brilliant light?
XP: I'm currently writing and painting towards a hybrid manuscript entitled Presenting as Blue / Aspiring to Green. I'm having a lot of fun writing about my friends, television shows, and color theory. The plan is for the book to eventually give up on linguistic communication and shift into a visual literary coding project. I'm working on a system to translate language into art so the reader has an opportunity to gaze upon a line's essence. Presenting as Blue / Aspiring to Green is in a heady and early stage. I will be sure to share its progress via my website: xandriaphillips.com. It's been wonderful chatting with you, June. +
Order your copy of HULL here!
---
Xandria Phillips is a poet and visual artist from rural Ohio. They are the author of Reasons For Smoking, which won the 2016 Seattle Review chapbook contest judged by Claudia Rankine. Their poem "For a Burial Free of Sharks" won the 2016 Gigantic Sequins poetry contest judged by Lucas De Lima. Xandria is the poetry editor at Honeysuckle Press, and a teaching artist for Winter Tangerine's NYC workshops. Their work is featured or forthcoming from Virginia Quarterly Review, Black Warrior Review, Crazyhorse, West Branch, and elsewhere.