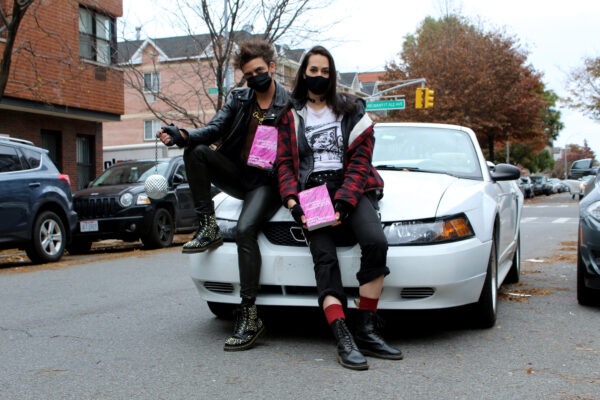 Blog
|
Happy Pub Day to WE WANT IT ALL: an interview with the editors!!!
November 24, 2020
TODAY IS THE DAY!!! WE WANT IT ALL IS OUT OUT OUT IN THE WORLD!!!
We Want It All is an anthology of poems and prose by trans writers who have or are writing from and into the interstitial space of radical poetics and politics, resulting in an intergenerational assembly of formally inventive poetics that engage with revolutionary social movements to explore and interrogate issues of labor, race, desire, community, and embodiment. The work in this anthology is as playful and gossipy as it is wholly determined and uncompromising in its demands for abundance and liberation for all. I caught up with editors Kay Gabriel and Andrea Abi-Karam to talk transcestors, the dovetailing of organizing and poetry, their friendship and collaboration, and this exuberant anthology's timely birth into the world. Join us in celebrating by reading on and getting your very own copy here!
– Santiago Valencia, Nightboat Fellow
---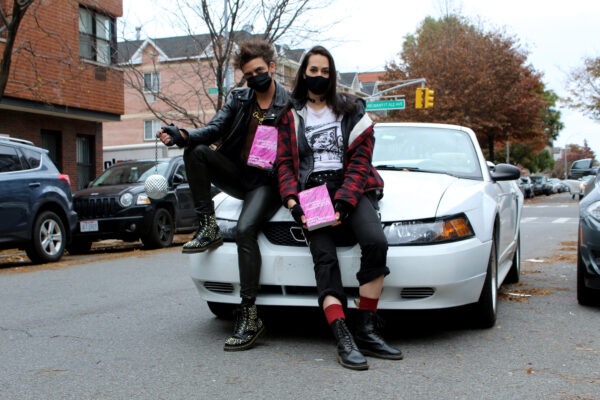 photo by Lix Z
SV: It's evident that an immense amount of labor and love went into the assembly of this beautiful pink brick of a book. What does it feel like to see it finally printed and making its way into people's hands? 
Kay: Unreal, honestly, and also totally gratifying. 
Andrea and I worked on the book for a couple years. I think our first conversations about it were in November 2018. That work included figuring out both what we wanted this project to be in the abstract—identifying precisely the intervention we wanted to make—and then threading the needle between this abstract idea and the actual collection of anti-capitalist trans poetics. And, you know, that meant reading really carefully, thinking about what the poems & essays in the collection are actually formalizing or putting into the world.
Rissa Hochberger, the designer, did a phenomenal job of translating Andrea's & my thoughts for the finished book into this really visually & tactilely appealing object. And it's good that it's appealing to look at and hold because we want people to really dig into the writing, read it out loud, recite it, argue with it, write something in response to it. I think there are all these relationships of response and engagement that we want this book to set off for people. It's cool to hear that it's already doing so.
AAK: I checked the tracking number on my editor copies several times a day, I was so excited. They arrived when I was on my way out the door to rollerblade across the Williamsburg bridge. I opened them up in my room and the first thing I noticed was that they were shiny and looked so good. I flipped through, all the pages familiar from the many proofing passes and quickly landed on Harry Josephine Giles's spread "ABOLISH THE POLICE" close to the center of the book, and I thought, oh my god, we did it!!
One of the most exciting things about these early days is seeing people outside of mine and Kay's immediate communities with the book. It's already finding its way into the hands of people who aren't even necessarily poets, and have a direct stake in transness and radical politics. That the book has already outgrown mine and Kay's immediate networks is powerful and what I was hoping for as we put it together.
SV: The anthology includes writing by several beloved trans writers who are no longer with us— such as Sylvia Rivera, Leslie Feinberg, Lou Sullivan, and Bryn Kelly—as well as living writers from varying generations. You call this weaving of voices "finding a radical history for present contexts." Can you speak to the charting of this intergenerational constellation? How do you see these writers and their work speaking to each other across borders of time, space, and unique experience? 
Kay: Sure. One thing we really wanted to cut against is the false belief that suggests that this current wave of anti-capitalist organizing—which in the case of trans liberation is really linking together the subjective projects of gender & sexual liberation with the struggles of prison, police & border abolition, Black liberation, international anti-colonial solidarity and economic & ecological justice—is the first or the only moment to do so, or the one that's finally gonna get it all right. Researchers like Tourmaline and Emily Hobson have really emphasized how in its early years the gay liberation movement worked closely in solidarity with the Black Panther Party and the project of freeing political prisoners, for instance. Or we could think also about Feinberg's Stone Butch Blues, which we included an excerpt from in the anthology, and which is pretty stunningly as much about union solidarity and shop-floor struggles as it is about gender and sexuality. One thing we really want to do is think about this present moment of intense political activity in conversation with prior moments of the same—and how poetry dovetails with that activity and makes history present and palpable when the counterinsurgency of the state wants to suppress that collective memory. 
AAK: Our present day movements are so deeply informed by our transcestors, and we wanted the anthology to reflect that. I also find that there's something exciting and uplifting about placing new trans writers, there are many contributors where this anthology is their first time being published, alongside people like Leslie Feinburg and Sylvia Rivera. The language around trans and gender identities change with every generation, with every iteration, yet a lot of the organizing tactics are shared, and we wanted the anthology to acknowledge both how language itself is not enough for revolution but works in tandem with organizing. There's an important piece here as well about wanting to resist the commodification of trans literature, thinking about the publishing rights struggles around Stone Butch Blues and how Leslie Feinberg stuck with the union and how the book is now available for free, feeling very lucky that we got to include the opening, Letter to Theresa, in the anthology. I also want to speak to our contributors who were our contemporaries, Bryn Kelly and Nico Gogan, who passed away suddenly, and it feels important to remember them and broadcast their work as much as we can. Early into the submission reading days, Nico and I had been talking about him doing art for the cover of the anthology. That ended up not being possible, and I'm so glad that we could include some of his artwork, the "cyborg" frontispiece illustration as part of this project.
SV: One of my favorite elements of the anthology is the frequent use of an epistolary form or mode. To me, this reflects how trans folks often grow into their identities, politics, and creative work through nurturing capacious relationships with one another—both on and off the page—where we can explore the full range of our desires and dreams and collaborate on building the world we want to thrive in. How has the space of your friendship and collaboration influenced the creation of the anthology? Vice versa, how have the poems and poets in this anthology inspired/influenced your friendship, poetics, and political praxis? 
Kay: Bryn's essay in the anthology quotes the late activist Frances Goldin: "your life will be made sweet by comrades and friends." I feel blessed for the relations of comradeship, collaboration, organizing & affection that suffuse this book, and that includes my friendship with Andrea! We actually became close while collaborating, but we had a lot of points of overlap beforehand, aesthetic & political. Both Andrea & I have tattoos with lyrics by the band Hole—theirs from "Celebrity Skin," mine from "Doll Parts"—and I'm pretty sure we visited the David Wojnarowicz retrospective at the Whitney at the same time, though we hadn't yet met in person and I was too shy to say anything. So, you know, some grunge shit, some attachment to the 90s. Plus I think in general we have a really similar exuberance that we bring to our work and relationships, we're just these buzzing Hi-NRG personalities, haha. More seriously, we also have these very active relationships to abolitionist organizing, and that really fueled our thinking for this project.
AAK: One of the many joys of working on WE WANT IT ALL for me has been getting to know Kay!! She may have been too shy to say hello at the David Wojanarowicz show but I'll never forget when we did finally meet at the New York Art Book Fair, I was working the Nightboat table and in full glamor she strutted up to the table in fishtank heels and intro'd herself to me, and I thought, damn, I need to get to know her!! Before we even put out the call for submissions we got together a few times and just talked about writers we loved, forms we were drawn to, and gay mischief we'd gotten into. We both love New Narrative and really wanted work that was epistolary, gossipy, and rich with shameless desire to infuse the collection. Something we talked extensively about from the beginning was the I, poets love to talk about the I, and how we were explicitly interested in an I that was collectively oriented and attached to big stakes outside of itself.
SV: Throughout the anthology, we see how writing and orienting around a radical trans poetics often engages both personal and collective imaginations. There's a kind of desiring towards and longing for that paves the way for the fulfillment of an embodied poetic and material abundance. As curators, what did the work of imagining look and feel like for the anthology? Who first whispered its beginning? 
Kay: Well, so, related to exuberance, I think both of us are interested in poetry that dovetails with radical movement but isn't just movement writing. I think we're both interested in the inventive capacities of poetry—the way I like to put this is speaking in a language that the present may not even be able to recognize. So we talked a lot about actively looking for poems that touch on a full range of trans sensation and thought and experience in a variety of forms. I actually think this is especially important in a particularly miserable world—I mean, we assembled the collection pre-pandemic, and the general catastrophism that liberals evince as the sole attitude they're capable of right now certainly intensified afterwards, but the world produced by racial capitalism was already genocidal, mass death and organized abandonment were already here, and the question—what are we all doing about it—is the same question. It's a question that poetry answers all the more vigorously when it asks, implicitly or explicitly, what's going on and what do you need and what's present in or absent from your life and how are we all living together and how do we want to, and when it speaks with a certain realism towards that world and fuels the collective manifestation of a different, altogether inverted one. I'm thinking a lot about Kam Hilliard's poem "Well Organized Note on Governance" in We Want It All—"I am, / in part(s), mourning color. I // am, in parcels, tryna pass / on gratuitous hope"—and this wild use of the imperative mood in Trish Salah's "Manifest": "Exist it, if you can."
AAK: The editorial process was much less about imagining and much more about asking questions, particularly what happens when and how can trans poetry act as an accomplice to revolution? Something I think a lot about in the conversation of utopia/futurity is how impossible it feels to imagine such a utopia from the standpoint of being utterly far away from ever having experienced it. There are glimmers of course, in hedonistic queer spaces and temporary autonomous zones. But what we really sought to figure out was, what patterns formal, aesthetic, and on the ground, would emerge when we set the conditions for the call for submissions explicitly trans and explicitly radical. I think we both felt open and eager to the limitless possibilities of what would come in and I definitely felt eager to be surprised by what came in.
SV: What have you encountered, unearthed, conjured that surprises you? What questions are still lingering for you after the project's completion? How do you hope to see this anthology living on in the world? 
Kay: I felt pleasantly surprised about the sheer number of submissions in letters & correspondence and other forms spinning off from the epistolary. I definitely feel pretty attached to that mode and it's sort of personally gratifying to see my work, say, in some kind of simultaneous conversation with these other projects I hadn't read previously. Also the number of really sharp, incisive poems that braid ecology and economy together. There's a certain strain of ecopoetics that I think is just kind of hippie-ish and nostalgic in its sensibilities, or otherwise unhelpfully despairing, and then we got these submissions that struck a tone I really feel like I haven't encountered elsewhere—I'm thinking of Raquel Salas Rivera's poem in the collection, or hazel avery's.
I'm hoping that a lot of people read the book and then feel like it enabled their writing or thinking and they do more of whatever they were gonna do. I'm hoping that if a certain type of tokenistic sentimental liberal encounters this book they feel personally attacked by the introduction's analysis of "how capital turns the precarity and violence of trans lives into cultural commodities"—they should. This is a book that is actively trying to make comrades of some people and enemies of others, if that makes sense. I'm hoping that people really, keenly read Harry Josephine Giles's "Abolish The Police" poems, especially when they say: "we must accept 'Abolish / the Police is not a metaphor[.]" For that matter, nor is the title of the anthology itself.
AAK: I am thrilled to have encountered so many trans writers whose work I hadn't yet known. Similarly to Kay, I was surprised and thrilled by the swath of excellent writing on ecocide. Finishing this project throughout the pandemic was of course a surprise, but being able to host virtual events featuring contributors from all over the world is such a gift. I think what Kay said about how the book endeavors to live in the world as both comrade and enemy is absolutely perfect. I hope it extends far beyond what either of us could have imagined and that it acts as a flashpoint for many more radical trans poets to come.
---
Kay Gabriel is a poet and essayist. She lives in Queens, NY.
Andrea Abi-Karam is an arab-american genderqueer punk poet-performer cyborg, author of THE AFTERMATH (2016), EXTRATRANSMISSION (2019), and Villainy (forthcoming in 2021).