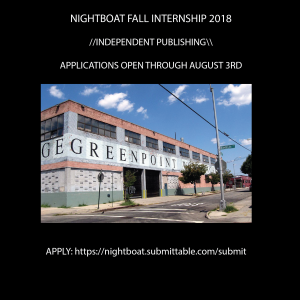 Other
|
Apply to be a Fall Intern!
September 13, 2018
Nightboat Books Internship Program Fall 2018
The Nightboat Books team is pleased to announce our open call for the Fall independent publishing internship program! The internship will have three sessions annually to begin in Summer, Fall and Spring. The program is designed to engage interns in all aspects of literary publishing: editorial, marketing, publicity, online and community engagement, fundraising and development, and other aspects of the publishing industry. This program is designed to be a dynamic experience, offering each intern a valuable overview of publishing, while also getting opportunities to focus on assignments that interest them. Positions are unpaid, but we offer free books, mentorship, professional recommendations & a jumping off point for aspiring writers, editors, booksellers and publishers into the world of independent, literary publishing.  Nightboat Books, a nonprofit organization, seeks to develop audiences for writers whose work resists convention and transcends boundaries, by publishing books rich with poignancy, intelligence and risk. We are committed to publishing complicated work by a diverse group of writers. We encourage people of all backgrounds, ages, races, ethnicities, gender and sexual identities, and disability statuses to apply.
Responsibilities: 
16-24 hours a week at our Greenpoint office, for approximately 3 months.
Read and evaluate, submissions of prose and poetry.
Support creation and maintenance of digital content, including the Nightboat website, blog, newsletter, social media, and more.
Support in planning book launch events and logistics such as venue, lineup and promotion.
Proofread, copyedit and fact check manuscripts & publicity packets.
Conduct research on reviewers, magazines, venues.
Read our forthcoming books and draft pitches for outlets.
Assist with administrative tasks, including preparing and executing mailings, maintaining database records, copying, filing, and sorting mail.
Attend and participate in staff meetings.
Qualifications: 
Passionate commitment to literature and desire to support Nightboat authors
Excellent written, verbal, organizational skills
Ability to work independently and as a team while on a deadline
Creative problem solving abilities as well as excitement about the fast paced world of publishing
Experience with InDesign, Photoshop, any audio or video editing tools, photography, and videography are helpful, but not required.
Internship Sessions & Application Deadlines SUMMER 2018: Late-May through Late-August. Applications due April 22nd. FALL: September 1 through December 15. Applications due August 3. SPRING: Mid-January through mid-May. Applications due November 15.  To apply, upload your resume & cover letter through the Submittable form.
Apply through Submittable here!