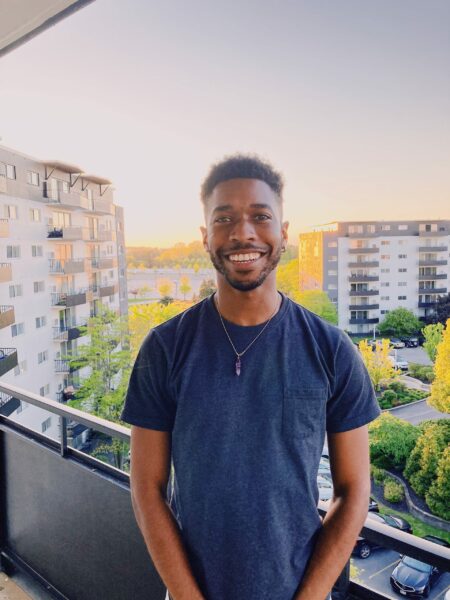 Blog
|
An Interview With Dior J. Stephens, Author of CRUEL/CRUEL
July 5, 2023
In March, I arrived too late to hear Dior J. Stephens read from CRUEL/CRUEL at a packed Nightboat event at the Rendezvous in Seattle. So, when the opportunity arrived to have this conversation with Dior about their recent collection, I leapt at the chance. As a new fan of Stephen's poetry and the way CRUEL/CRUEL simultaneously feels like an art object and performance, I wanted to hear more about the poet, their process, stories leading up the book's release, and what's on the horizon for them!
—Thomas Dunn, Poet
---
Thomas Dunn: "Once Again" begins your debut collection in an impactful way. The poem also does the work of setting up the ongoing balancing act between both the lyrical and the visual gymnastics that are in a constant state riffing and building on a lexicon of variation throughout CRUEL/CRUEL in surprising ways. Some of the most exciting experiences of the book was your use of patterning on the page that felt like a stage that amplifies the sound and rhythm to your work. As a new fan of your poetry and this book in particular, do you mind talking more about your use of the page and what you feel using the page in this way does for your work?
Dior J. Stephens: I'm always harkening back to my "past life" in theater and dance, but they're a bit inescapable when it comes to my poetic practices — especially when considering the lyric-visual focus that you've noticed here. A lot, if not most, of my engagements with literature from eight years old onward were through those worlds. As a result, I have grown to not enjoy static language as much as I used to. In my mind, all language is moving, whether on the page or in dialogue or wherever language is encountered. This isn't to say that language shouldn't/can't be static, but, for my own aesthetic reasons, this is an undeniable, foundational rule. When I'm writing in my journal (which is almost always the first step, unless I'm on-the-go), the words usually present themselves to me with some sort of idea or suggestion of the choreography they want to express on the page. The most consistent challenge arises when transcribing those handwritten poems onto the screen and finding ways to translate often subtle shifts, gaps and spaces on the digital page.
So much of my work is atemporal. It eludes linear modes of understanding and sense-making, and the visuality of the work, to me, helps express this. The TLDR of this: if all the world's a stage, then so is the page. It is my job, as director-choreographer-poet, to align the words in a way that serves the essence of the 2D poem as much as the vibrancy of the 3D/4D experience the poem seeks to remember, recreate, or recall.
Thomas: The implementation of black and white pages was gorgeous, but what I loved was how the black pages used in the titular section also compliment the language. Could you talk more about the writing of this section, the decision to use dates within the poem, and the bold choice to use white text on black paper for this section?
Dior: Shoutout forever and always to Rita Bullwinkel for backing me up on that call. I remember being extremely nervous to even consider doing it, much less send the book out in hopes of publication. We were having one of our advisor meetings and I said "Do you think this is a wild move?" and she very plainly said "No." and I was sort of struck with the directness of it. Like, oh, yeah, I can do this. I'm doing it for a reason. Let's do it.
To paint a rough timeline, "Once Again" was written just before Covid became a major concern in the US in 2020. It's right there on the border of pre-Covid. So, in the middle section, what I lovingly refer to as the "black hole vortex" section of the book, the Covid shutdown had begun. I was living in Oakland, completing the second year of my MFA online, losing it a little bit, like so many of us were. While I was finishing my MFA, I was also enrolled in a MA in Visual and Critical Studies that opened up my artist-mind in so many profoundly impactful ways. I remember, in one course, we were having a roundtable discussion about the pervasive whiteness that exists in gallery spaces and were specifically focusing on the art-world presumption that a gallery is/will always be: white walls being the foreground, with art protruding out from it. So, I had this question one day: what would happen, in literature, in poetry, if we flipped this script? If Blackness was the hegemonics of the page, and whiteness protrudes out from it?
Now, this isn't meant to suggest that the speaker of the vortex section is a white voice. For me, what that move does is place Blackness at the absolute center, as it is the center of my lived-in experience and was so painfully central to what racialized horrors we faced on the daily in those early Covid-shutdown days.
The decision to date this section was a tough one. I didn't (and don't) want this to ever be considered a covid book, at least not due to subject matter. The book was written in that early covid time, and that fact alone says enough. Which is why I dated that section. I knew I had to just come out and acknowledge it at some point, and to do so in a section of the book that feels the most atemporal (for me) felt like the right move. Everything relates back to the black pages, really. Everything in that section (not solely, but especially) has to move through, be expressed through, translated through (a frantic, frayed, hopeful, tired, angry, musical) Blackness.
And maybe to lastly, briefly add: I'm obsessed with space. Especially black holes. Like, what is going on in there? I was wondering, too, how my poetics might transform if I were to put them through a black hole/blender of language (de)(re)construction? At a time when almost nothing made sense around me, I wanted to lean into the idea of language being tossed around like a penny in a dryer. What does that penny look like after an extended, high-heat cycle? Has it changed? Is it still a penny? Is it still the same penny it was, pre-cycle? Seriously, what happens to things (language, bodies, souls) when they enter and reach the other side(?) of a black hole? I need to know.
Thomas: During the podcast "Black and Published" with Nikesha Elise William, you said something while discussing the limitations of Black Excellence and Black Boy Joy that still resonates with me. You mentioned how often this society doesn't allow black men or queer black men the opportunity to look at themselves or really get to know themselves and you spoke a lot about reflection and coming to terms with your own anger. I adore that conversation as a whole, but found this section thought provoking and insightful. How do you see CRUEL/CRUEL being in dialogue with who you were and who you are now?
Dior: That was such a rewarding conversation, thank you for bringing it into our dialogue here. I've said this often but I truly had to write this book. Had to get it out of me. And it's not as if I think, oh, I wrote this book, I am suddenly absolved of all my grief and anger, but writing through that and arriving to this collection, to CRUEL/CRUEL, did some major unlocking and healing that I don't think I would have accomplished otherwise.
One of my favorite poems in the book is "04/14/2020 to be or not to be not; queerfag sweeter than moschino——" because it is the poem that feels the most concerned with the complicated implications of reflection. It's playful and a little absurd, but, at its core, is intensely focused on considering what it means to see oneself as fully as possible. Which, of course, means seeing those ugly, dismal parts, too.
There's definitely a Dior pre-CRUEL/CRUEL, and I don't want to attempt to profile them now, but what I can say is that CRUEL/CRUEL invited me to have those critical dialogues with my "baby reflection" and a whole lotta other reflections that I'd been too fearful to acknowledge. Something in me was actualized by writing these poems, and a great deal was also taken to task and dismantled. The Dior reading these poems now still has so much to learn from the Dior who wrote this stuff, and it's precisely that ongoing dialogue that keeps the work feeling fresh and insightful for me, even after all this time.
Thomas: You've mentioned being a multi-disciplinary artist, and have talked about your background in theater in other interviews. Do you feel like having a diverse artistic history helps with your creative process and if so, how do you feel like it informs this collection?
Dior: Oh absolutely. I have a good friend who, before leaving Chicago to start my MFA, told me to remember something: that I'm an artist first, and everything else comes after that. Twenty-five year old Dior didn't think too much of it, but every year of my life since, I grow increasingly grateful that he shared that wisdom with me. I am an artist, and my other primary mediums (Theater, Dance, Performance, Photography, Mixed Media) are always present when I'm writing my poems. I often wish I was a more visual artist, like a painter or a sculptor, so I also spend a lot of time viewing/absorbing art. Sometimes, I paint with the words. Or sculpt a form of something. A memory, an aura, a certain light.
Though, for this collection, my big trio of theater, performance, and dance are definitely the greatest influences. I've talked a bit about theater and dance, but performance was also a very present player in the crafting of this work. I knew the work would need to be performed, literally, (at readings and the like) but also that it had to be performed in a way that the director/choreographer in me would feel best honored the flow and energy of the collection.
Thomas: CRUEL/CRUEL started out as your thesis at the California College of the Arts when you were earning your MFA. I would love to hear more about the experience of getting your thesis published? Did you go in with the goal of wanting to try to get a particular idea published or was the book something that developed over your time at CCA?
Dior: I absolutely went into my MFA with a prayer and a goal: that my MFA dissertation would be my debut collection and would be picked up within a year of my graduation. I say this to honor the power of prayer and manifestation. I know those are "trendy" concepts now, or whatever, but… there's a lot of truth in them, at least for me.
In the last semester of said MFA, Trisha Low was my professor for our virtual poetry workshop. She made what could've been a terrible online workshop situation very, very enjoyable. At the end of the semester she was hired as an Editor-at-Large at Nightboat and asked if I wouldn't mind sharing the rest of my manuscript with her so she could bring it to the Nightboat team. No promises. And now… here we are!
Now, I had no idea CRUEL/CRUEL is what I would end up creating. Actually, I had nearly published what I thought was meant to be my debut collection which would've been titled "ONE IS ALL" with another publisher. Those poems were/are trash, and practically nothing from that manuscript is in CRUEL/CRUEL, all except for… "Once Again." So, CRUEL/CRUEL absolutely presented itself to me.
Thomas: I've had the joy of following you on Instagram since March, and deeply love your online presence. One of my favorite things that I've experienced on the site was when you made a post that quote Nicki Minaj where you said you were feeling like you were "50k for a verse [with] no album out." Now that CRUEL/CRUEL is officially out and you've hit the road to promote it for the last two months, can you talk about what the reception has been like? Any highlight or surprising moments that you would like to share from the past few months?
Dior: You're so sweet. Thank you. I worry about my online presence quite a bit. Or, worry about feeling like I can't be my fullest, most authentic self online. Which, for a lot of reasons, I can't. But I'm glad the parts of me I do decide to share online are bringing joy to folks like you. That's the goal.
Love that you mentioned that post. Shoutout to Nicki. I was really feelin myself that day. I had just unboxed the book and it still had that fresh-book smell. I was very much still in awe that the book, CRUEL/CRUEL, was a real thing that I was holding in my real hands… and that I had did that! Still blows me away, to be honest.
I'm hesitant to paint a portrait of what the reception has been like. It's biased, right? But, I think the reception has been exceptional. My favorite experiences with this book are whenever I get to be in community with others and share the work, whether that be a reading or a guest lecture or whatever else. There's something so immediate and gratifying about interacting with someone who just encountered your work. There's less opportunity for the fake. Those, usually, tend to be some of the realest reactions you can get, and I'm happy to witness the work moving others the way that it does.
There's been so many great highlights in the past few months. I love seeing all the places the book has gone, especially libraries. A big highlight was the Nightboat reading at the Rendezvous theater. It was so unbelievably packed. Like, packed in a way where I was amazed that poetry had that much pull. But, the real highlight of that reading was getting up on stage and being one of the lesser-known/emerging poets on the set that night and, once I got up there and started doing the thing (shoutout to Angela Bassett), it felt like the room sort of froze. I remember thinking to myself as I was flipping the pages to read the next poem, something like: "Oh wow, these people are really listening to. Okay, cool–"
Thomas: With summer right around the corner, are there any books that you are looking forward to reading on your booklist? Anything you are excited to go see or do? Lastly, is there anything big that you can tell us coming down the road for you?
Dior: Listen, my to-be-read pile is in absolute shambles (in all the best ways). In fact, it's grown to occupy three entirely different rooms in my apartment and shows no signs of diminishing anytime soon.
A few mentions: Village by Latasha N. Nevada Diggs, Return by Emily Lee Luan, Urbanshee by Siaara Freeman (shoutout to Cleveland), asked what has changed by Ed Roberson, Watch Your Language by Terrance Hayes, Concentrate by Courtney Faye Taylor, Ante Body by Marwa Helal, SURGE by Etel Adnan, and Life on Mars by Tracy K. Smith. This is really only the tip of the iceberg. I'm entering my exam/reading year for this whole doctorate thing, so, I've been collecting books for a while now.
Anything big coming down the road? I am currently working on a second full-length. No idea when I'll finish that, but I know it's going to take some time. What else? I think I'll invoke another YMCMB legend and share one of my all-time favorite bars: "Real G's move in silence like lasagna". Stay tuned.