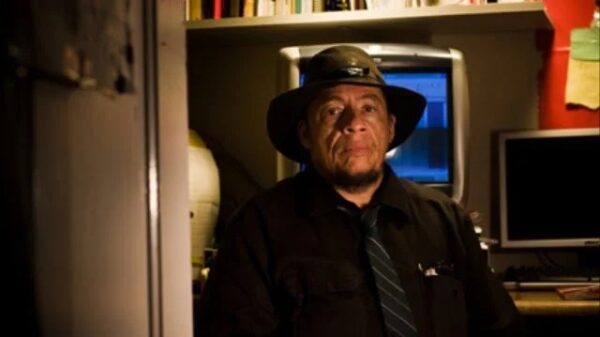 Blog
|
Remembering Red Jordan Arobateau (1943–2021)
December 17, 2021
Red Jordan Arobateau died on Thursday, November 25, in San Francisco. The painter and literary sensation was seventy-eight years old. He left behind an enormous, unparalleled body of work in fiction, erotica, life writing, poetry, and visual arts.
After leaving his home in Chicago as a teenager, Red Jordan Arobateau relocated briefly to New York City before arriving in San Francisco, where he remained for nearly six decades. Arobateau first self-published dyke novels and poetry in the 1970s, and over the years used small presses, gay and lesbian publishers, lesbian bars, and varied forms of self-publishing to share his voluminous writing. Chronicling gay and lesbian street life, his novels celebrate sex workers, butch and femme couples, transsexuals, and the radical poor in explicit and uniquely musical prose. These books are available through Lulu.com, while his paintings can be viewed at FineArtAmerica.com. Red Jordan Arobateau's writing has shaped genres and continues to be as groundbreaking today as it was when he first wrote. In Arobateau's own words from his 2008 volume My Continuing Journey Into Artistic, Spiritual, and Revolutionary Thoughts:
"If you've ever been down on the abject bottom of society you will be looking up, as if out of a deep pit, towards a faint lighted window exit and know, absolutely, from within the chilly bones of your being, that this situation is wrong; that this situation needs to be turned up-end, reversed; so that all of us down here clamoring and crawling over each other in mayhem, in the slime of the refuse pit would be suddenly sitting on top—out in the clean air, the free air, with food, with plenty, with peace, and the few ghouls; bloodsuckers who are our jail wardens, as their fortunes necessitate it, they would be cast down into this uttermost bottom. My journey into revolutionary thoughts begins here, at the bottom of the pit. […] between the pointers and observations of a fine arts are these gestures of a revolutionary, nascent, pacing in the pit down here in the bottom, in the flesh, in barely a crack of light from that far-off window to give me hope we might one day escape."
There is no other artist like Red Jordan Arobateau. Nightboat will have the honor of publishing two volumes of his writing in the coming years: My Continuing Journey Into Artistic, Spiritual, and Revolutionary Thoughts followed by a collection of stories and excerpts selected from Arobateau's numerous novels, story collections, and journals. We look forward to immersing ourselves in Red Jordan Arobateau's voice and vision and to sharing them with our readers.