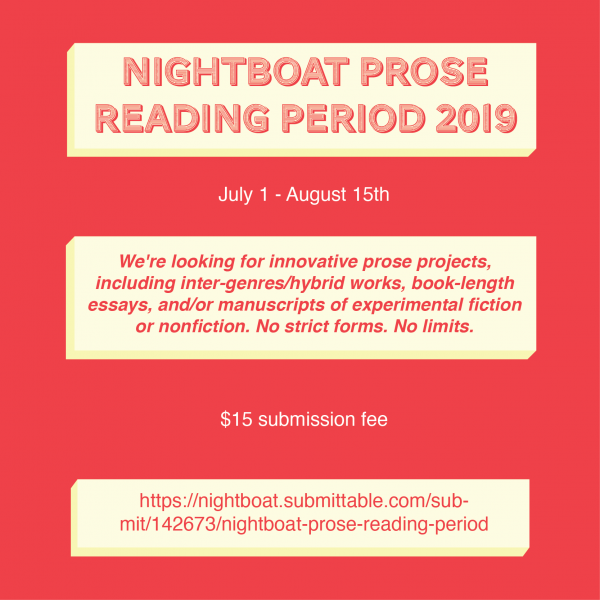 We're thrilled to announce that Nightboat Books is considering prose manuscripts from July 1-Aug 15 2019. Please familiarize yourself with Nightboat Books's editorial affinities by checking out our titles. Buy our books! Read them!
We're looking for innovative prose projects, including inter-genres/hybrid works, book-length essays, and/or manuscripts of experimental fiction or nonfiction. No strict forms. No limits.
Your manuscript might include poetry and poetic sections, but we're not considering full length poetry collections at this time.
There is a $15 fee to cover administrative costs.
Please include the following with your manuscript through Submittable:
(a) your name and contact information (b) a short professional biography (c) a description of the book/project
We look forward to reading your work.
Submission Period: July 1-August 15th.
Nightboat Books, a nonprofit organization, seeks to develop audiences for writers whose work resists convention and transcends boundaries, by publishing books rich with poignancy, intelligence and risk. We are committed to publishing complicated work by a diverse group of writers. We encourage people of all backgrounds, ages, races, ethnicities, gender and sexual identities, and disability statuses to apply.