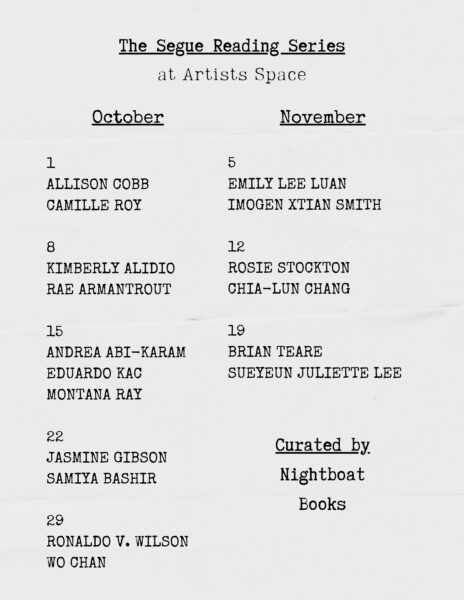 Blog
|
Nightboat's Curation of the Segue Reading Series this Fall!
September 8, 2022
We are delighted to announce that Nightboat Books is collaborating with Segue Foundation and curating The Segue Reading Series at Artists Space this Fall!
Every Saturday in October and November (excluding the weekend of Thanksgiving), we are thrilled to be hosting readings from a dynamic cohort of writers. Each event is in-person, located at Artists Space: 11 Cortlandt Alley, New York, NY 10013. Each reading will also be live-streamed on Zoom and archived.
Doors open at 4:30pm, and the readings begins promptly at 5pm. The admission is $5, and all proceeds go directly to the readers.
Here is the calendar:
October 1 Allison Cobb & Camille Roy
Allison Cobb is the author of four books: Plastic: an Autobiography (winner of the Oregon Book Award and the Firecracker Award); Green-Wood; After We All Died; and Born2.  She lives in Portland, Oregon.
Camille Roy is a San Francisco-based writer and performer. Her latest book is Honey Mine: Collected Stories. She is also the author of Sherwood Forest, Cheap Speech, Craquer, Swarm, The Rosy Medallions, and Cold Heaven.
October 8 Kimberly Alidio & Rae Armantrout
Kimberly Alidio is the author of why letter ellipses; once teeth bones coral, a Lambda Literary Award Finalist; and after projects the resound. Her most recent full-length book, Teeter, won the Nightboat Poetry Prize, and will be published in 2023.
Rae Armantrout is the Pulitzer Prize winning author of fifteen books of poetry. She has published ten books with Wesleyan University Press, including Wobble, Entanglements, Partly, and Versed.
October 15 Andrea Abi-Karam & Eduardo Kac & Montana Ray
Andrea Abi-Karam is a trans, Arab-American punk poet-performer cyborg, workshop facilitator, and activist. They are the author of Villainy, EXTRATRANSMISSION, and the chapbook THE AFTERMATH. With Kay Gabriel, they co-edited We Want It All: An Anthology of Radical Trans Poetics.
Eduardo Kac is internationally recognized for his telepresence and bio art. He emerged in the early '90s with his radical works combining telerobotics and living organisms. His latest book Porneia contains experimental poems, performances and visual works realized in the context of the Porn Art Movement.
Montana Ray holds an MFA in poetry and translation and a PhD in comparative literature from Columbia University. She translates from Portuguese and Spanish and writes archive-driven nonfiction. She is also the author of several artist books and a book of concrete poetry, (guns & butter).
Yhuri Cruz is an African-Brazilian visual artist and writer from Rio de Janeiro. He has a degree in Political Science (UNIRIO) and a postgraduate degree in Cultural Journalism (UERJ). His works explore intersections between his family's ethical / aesthetic heritage and cosmogony, historical archives, and transgressive spheres of fiction.
October 22 Samiya Bashir & Jasmine Gibson
Samiya Bashir is a poet, writer, and performer whose solo and collaborative work has been widely published, performed, and printed across the world. Bashir is the author of three poetry collections, most recently Field Theories, winner of the 2018 Oregon Book Award's Stafford/Hall Award for Poetry.
Jasmine Gibson is a Philly jawn, poet, and social worker. She received her B.A. in Political Science from Temple University and her M.S.W from the Silberman School of Social Work at Hunter College. Gibson is the author of Don't Let Them See Me Like This (2018) and A Beauty Has Come (2023).
October 29 Wo Chan & Ronaldo V. Wilson
Wo Chan who performs as The Illustrious Pearl is a poet and drag artist. They are a winner of the Nightboat Poetry Prize and the author of Togetherness (2022). Wo has received fellowships from MacDowell, New York Foundation of the Arts, and many others. Find them at @theillustriouspearl.
Ronaldo V. Wilson is the author of Virgil Kills; Narrative of the Life of the Brown Boy and the White Man, winner of the 2007 Cave Canem Prize; Poems of the Black Object, winner of the Thom Gunn Award for Gay Poetry and the Asian American Literary Award in Poetry in 2010. Co-founder of the Black Took Collective, Wilson is Professor of Literature at U.C. Santa Cruz.
November 5 Emily Lee Luan & imogen xtian smith
Emily Lee Luan is the author of 回 / Return, a winner of the Nightboat Poetry Prize, and I Watch the Boughs, selected for a Poetry Society of America Chapbook Fellowship. She holds an MFA from Rutgers University–Newark and lives in Brooklyn.
imogen xtian smith is a poet & performer whose work has appeared in Apogee, Peach Mag, The Rumpus, Tagvverk, and We Want It All: An Anthology of Radical Trans Poetics. Their debut collection stemmy things drops in 2022. imogen lives & works on Lenape lands / NYC.
November 12 Chia-Lun Chang & Rosie Stockton
Chia-Lun Chang is the author of Prescribee (2022), winner of the Nightboat Poetry Prize, and two chapbooks, An Alien Well-Tamed and One Day We Become Whites. Chia-Lun teaches contemporary Taiwanese poetry and fiction at the Brooklyn Public Library. Born and raised in New Taipei City, Taiwan, she lives in Brooklyn.
Rosie Stockton is a poet based in Los Angeles. Their first book, Permanent Volta (2021), is the recipient of the Sawtooth Prize. Their poems have been published in Publication Studio, VOLT, Jubilat, Apogee, Mask Magazine, and WONDER.
November 19 Sueyeun Juliette Lee & Brian Teare
Sueyeun Juliette Lee grew up 3 miles from the CIA and now lives in Denver, CO. She is the author of Aerial Concave Without Cloud (2022), No Comet, That Serpent in the Sky Means Noise (2017), Solar Maximum (2015), and many others. A former Pew Fellow in the Arts, she also makes video and installation art.
Brian Teare is the author of six critically acclaimed books, including Doomstead Days, a finalist for the National Book Critics Circle, Kingsley Tufts, and Lambda Literary Awards. Teare's most recent book is a reissue of The Empty Form Goes All the Way to Heaven. He teaches at the University of Virginia.