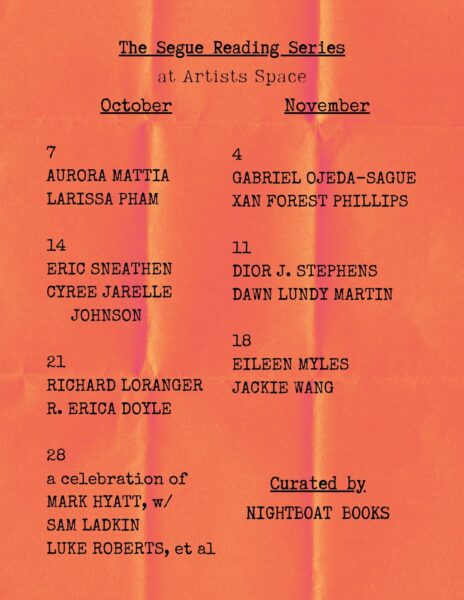 We are delighted to announce that Nightboat Books is collaborating with Segue Foundation and curating The Segue Reading Series at Artists Space this Fall!
Every Saturday in October and November (excluding the weekend of Thanksgiving), we are thrilled to be hosting readings from a dynamic cohort of writers. Each event is in-person, located at Artists Space: 11 Cortlandt Alley, New York, NY 10013. Each reading will also be live-streamed on Zoom and archived.
Doors open at 4:30pm, and the readings begins promptly at 5pm. The admission is $5, and all proceeds go directly to the readers.
Here is the calendar:
Oct 7: Aurora Mattia & Larissa Pham
Aurora Mattia lives in Austin, Texas. Her debut novel is The Fifth Wound. Her second book, a story collection called Unsex Me Here, is forthcoming in 2024. She is working on another novel and some country songs.
Larissa Pham is an artist and writer in New York. She writes fiction, essays, and criticism and is the author of Fantasian, a novella, and Pop Song, an essay collection.
Oct 14: Cyree Jarelle Johnson & Eric Sneathen
Cyree Jarelle Johnson is a poet and writer from Piscataway, NJ. His collection SLINGSHOT won a 2020 Lambda Literary Award in Gay Poetry, and WATCHNIGHT is forthcoming. Johnson is a recipient of a 2023 Creative Writing Fellowship from the National Endowment for the Arts.
Eric Sneathen is a poet and queer literary historian living in Alameda, California. He is the author of Snail Poems and Don't Leave Me This Way. He and Lauren Levin edited the selected fictions of Camille Roy, Honey Mine.
Oct 21: r. erica doyle & Richard Loranger
r. erica doyle was born in Brooklyn to Trinidadian immigrant parents. Her debut collection, proxy, won the Norma Farber First Book Award and was a finalist for the Lambda Literary Award for Lesbian Poetry. She has received grants from the Hurston/Wright Foundation and the Astraea Lesbian Writers Fund.
Richard Loranger is a multi-genre writer, performer, musician, and visual artist who lives and works in Oakland, California. They are the author of the new collection Mammal as well as Unit of Agency, Be a Bough Tit, Sudden Windows, Poems for Teeth, The Orange Book, and ten chapbooks.
Oct 28: A Celebration of the Poems of Mark Hyatt, with Sam Ladkin, Luke Roberts, others TBA
Mark Hyatt (1940-1972) lived at the center and the fringes of the bohemian underground in 1960s Britain. In the half-century since his death, his work has been known almost exclusively by word of mouth. Drawing on a full range of archival sources, So Much For Life, edited by Sam Ladkin and Luke Roberts, is the first comprehensive edition of his poems.
Sam Ladkin is a Senior Lecturer in Creative and Critical Writing at the University of Sussex, where he directs the New York School Seminars. He co-directs the poetry press Sancho Panza.
Luke Roberts is the author of several chapbooks including Landscaping Under Duress. He is also the editor of Desire Lines: Unselected Poems, 1966-2000 by Barry MacSweeney. He lives and works in London.
Nov 4: Gabriel Ojeda-Sagué & Xan Forest Phillips
Gabriel Ojeda-Sagué is a poet and writer living in Chicago, author of four books of poetry, most recently Madness, finalist for the Four Quartets Award, and Losing Miami. He is a PhD candidate in English at the University of Chicago where he works in the study of sexuality.
Xan Forest Phillips is a poet and visual artist from rural Ohio. He is the author of the poetry collection Hull, winner of the 2020 Lambda Literary Award for Trans Poetry, and the chapbook Reasons for Smoking, selected by Claudia Rankine for the Seattle Review Chapbook Contest.
Nov 11 Dawn Lundy Martin & Dior J. Stephens
Dawn Lundy Martin is the author of Good Stock Strange Blood, winner of the Kingsley Tufts Award for Poetry; Life in a Box Is a Pretty Life, winner of the Lambda Literary Award for Lesbian Poetry; DISCIPLINE; A Gathering of Matter / A Matter of Gathering; and Instructions for the Lovers (forthcoming).
Dior J. Stephens is the author of SCREAMS & lavender, 001, CANNON!, and CRUEL/CRUEL. Dior holds an MFA in Creative Writing from California College of the Arts and is currently a doctoral candidate in the Philosophy program at the University of Cincinnati.
Nov 18: Eileen Myles & Jackie Wang
Eileen Myles has published twenty volumes of poetry and fiction including Chelsea Girls, Cool for You, Inferno: A Poet's Novel, and A Working Life. Myles is the recipient of a Guggenheim Fellowship, four Lambda Book Awards, and a poetry award from the Foundation for Contemporary Arts.
Jackie Wang is an Assistant Professor of American Studies and Ethnicity at University of Southern California. She is the author of The Sunflower Cast a Spell to Save Us from the Void, a finalist for the National Book Award in Poetry, and Carceral Capital.