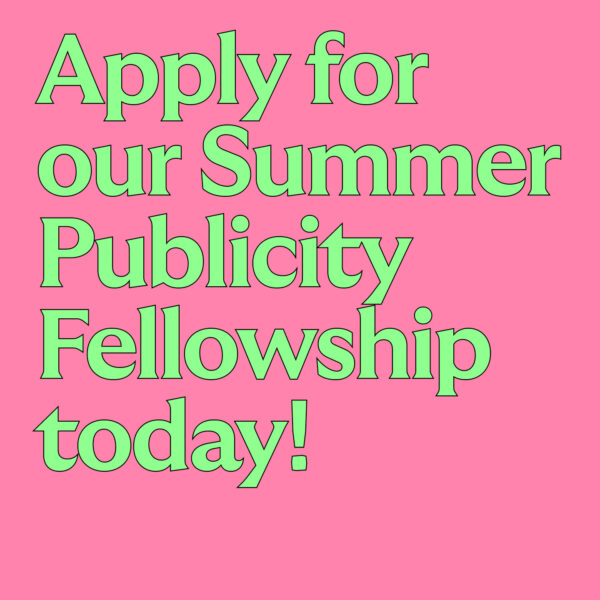 News
|
Internship
|
Nightboat Books Summer Publicity Fellowship
May 5, 2023
The program is designed to engage the fellow in all aspects of the publicity and marketing process, including writing pitches, creating press releases, researching reviewers and magazines, online and community engagement and social media, as well as other aspects of the publishing industry. This program is designed to be a dynamic experience, offering the fellow a valuable overview of the publicity process and publishing in general. Fellows are expected to work 8-10 hours per week and are paid $17 an hour, receive free books, mentorship, and professional recommendations.
The Nightboat Books fellowship is based in Brooklyn, NY; preference given to those who can be in the office once a week during the fellowship period.
Nightboat Books, a nonprofit organization, seeks to develop audiences for writers whose work resists convention and transcends boundaries, by publishing books rich with poignancy, intelligence and risk. We are committed to publishing complicated work by a diverse group of writers. We encourage people of all backgrounds, ages, races, ethnicities, gender and sexual identities, and disability statuses to apply.
Responsibilities and Qualifications
8-10 hours a week, for approximately 3 months

Knowledge and enthusiasm about poetry and independent publishing 

Read our forthcoming books and draft pitches for outlets 

Conduct research on reviewers, magazines, venues

Drafting posts and interviewing authors for blog

Create and edit publicity packets

Support in planning book launch events and logistics such as venue, lineup and promotion

Attend and participate in select staff meetings 

Support creation and maintenance of digital content, including the Nightboat website, newsletter, social media, and more
Passionate commitment to literature and desire to support Nightboat authors

Excellent written, verbal, organizational skills

Ability to work independently and as a team while on a deadline

Creative problem solving abilities as well as excitement about the fast paced world of publishing
Fellowship Sessions & Application Deadlines
SUMMER: June through August 2023. Application closes May 19th, 11PM Eastern.